Nearly 50 percent of Korean neurologists experienced migraine, more than eight times higher than the estimated migraine prevalence rate of 6.0 percent among the general population, a study showed.
Korean Neurological Association (KNA) said Wednesday that two neurologists – Professor Kim Byeong-geon at Nowon Eulji Medical Center and Cho Su-jin of Hallym University Dongtan Sacred Heart Hospital – made this and other points in their joint article, "Prevalence Rates of Primary Headache Disorders and Evaluation and Treatment Patterns Among Korean Neurologists," published in the Journal of Clinical Neurology.
The research team surveyed 442 neurologists from Sept. 26 to Nov. 13, 2019, finding 49.8 percent of them had experienced migraine.
There were no differences between male and female neurologists, they found.
Besides, the prevalence rates of migraine with aura and primary stabbing headaches were 12.7 percent and 26.7 percent. Additionally, that of cluster headache, widely known as a rare disease, was 1.4 percent, according to the study.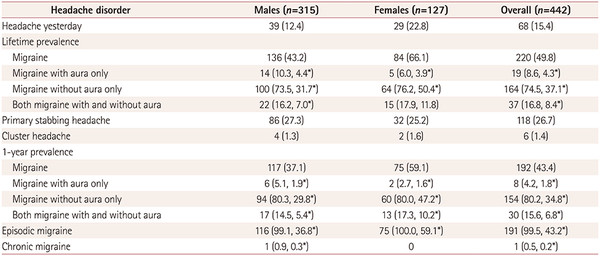 The researchers attributed the high prevalence of migraine among neurologists to their knowledge of its precise characteristics and accompanying symptoms and their ability to accurately diagnose family medical histories, triggering factors, and responses to treatment from diverse aspects.
In contrast, the estimated prevalence of migraine among the general population was 6.0 percent, significantly lower than that of neurologists. That seems to be because ordinary people use painkillers in the early phase of a headache, failing to meet the diagnostic standards for migraine.
"Primary stabbing and cluster headaches are not known well and often misunderstood as migraine. However, considering the treatment methods of the two diseases are entirely different from migraine, it is important to educate non-neurological physicians," the researchers said.
When neurologists are migraine patients, they show a higher level of empathy for patients. However, there are little differences in their treatment pattern with those of neurologists who did not experience migraine, the authors pointed out.
"This is presumed to be because most neurologists treat migraines according to (the same) treatment guidelines," they added.
Copyright © KBR Unauthorized reproduction, redistribution prohibited