HER2-positive breast cancer, which accounts for 20-25 percent of breast cancer, has been known for poor treatment prognosis, as its tumor cells proliferate and metastasize actively and recur quickly even after treatment.
However, the cure rate of HER2-positive breast cancer, especially in its early stage, has improved sharply as a series of target treatment options have been developed, such as Herceptin (trastuzumab), Perjeta (pertuzumab), and Kadcyla (trastuzumab emtansine).
In July, the Kadcyla adjuvant therapy began to receive health insurance benefits in treating high-risk patients with leftover lesions despite preceding chemotherapy and surgery, raising expectations for further improvement in the treatment environment for patients in the early phase of HER2-positive breast cancer.
Korea Biomedical Review met with Professor Ahn Seong-gui at the Breast Clinic of Gangnam Severance Hospital to hear about the domestic situations and treatment conditions of the early-phase HER2-positive breast cancer and the clinical value and prescription experiences of Kadcyla, which began to receive insurance benefits recently.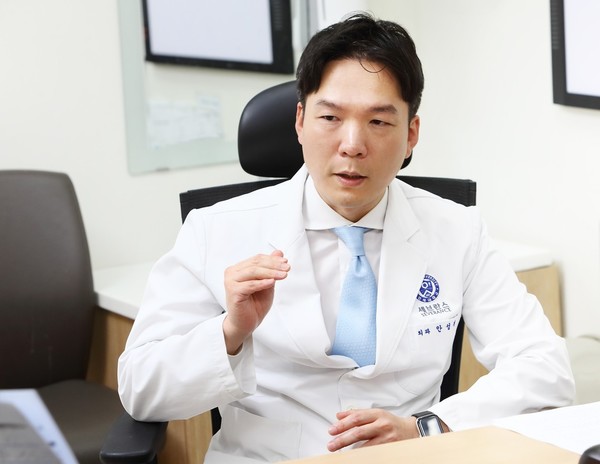 Question: What are breast cancer's overall characteristics in Korea?
Answer: The median age of breast cancer patients in Korea is 50 years, younger than other cancers. Some experts once expected the median age to reach 60, like in the West. However, it was confirmed to be still 50.
Early breast cancer treatment results are good. Health authorities provide free breast X-ray imaging (mammography) for women 40 and older every two years through the national health examination cancer screening program. Seventy percent of the subjects receive state-run checks consistently and faithfully.
the supersonic examination began to receive insurance benefits, further improving the environment for the early detection of breast cancer. Although the number of breast cancer patients is steadily increasing, overall treatment performances are good, as more than half of the patients are in stage 0 or 1. The five-year survival rate of 1st-stage breast cancer patients is quite high, with 95 percent or higher. However, the treatment results get poorer as the phase moves toward 2 or 3. The third-stage patients' five-year survival rate is about 80 percent.
Q: Breast cancer has different characteristics depending on subtypes. What is the feature of HER2-positive breast cancer, and what is its prognosis?
A: The most noticeable feature of HER2-positive breast cancer is its aggressiveness. Its cancer cells proliferate and metastasize more actively than other types of breast cancer, recurring quickly after treatment and reducing patients' survival period. Notably, it frequently causes limp node metastasis and even remote metastasis later.
Previously, it was classified as an intractable subtype as the treatment results of HER2-positive breast cancer patients were not good. However, since the introduction of HER2-positive target therapies, it began to be recognized as curable cancer, worthy of attempting to treat compared to other subtypes. As medical professionals can use three target therapies of Herceptin Perjeta, and Kadcyla, depending on the patient's situation, the treatment results have improved further.
Q: How does the consequent treatment proceed if a patient is diagnosed with early-phase HER2-positive breast cancer?
A: The two most important criteria in deciding the treatment process of an early-phase HER2-positive breast cancer patient are the "tumor size" and "whether it metastasized to the limp node." If a HER2-positive patient has a tumor sized 2 centimeters or more and a metastasis to limp nodes, she is considered a high-risk patient.
The current standard therapy for high-risk HER2-positive patients uses HER2 target therapy after providing pre-surgery adjuvant therapy (preceding chemotherapy). The pathological Complete Response (pCR), or cure rate, was 40 percent when Herceptin or its biosimilars were used in the past. Now, the rate rose to 60 percent after adding Perjeta to it. Therefore, many hospitals regard the TCHP (Taxotere + Carboplatin + Herceptin + Perjeta) therapy based on Perjeta + Trastumubab therapy as the mainstream and Standard of Care (SoC).
On the other hand, patients with tumor sized 2ch or smaller or without limp node metastasis undergo surgery. A typical stage-1 HER2-positive patient has a tumor sized 1-2cm. Generally, they receive four chemotherapies in addition to trastuzumab treatment for a year as standard therapy.
Unfortunately, patients with tumors smaller than 1cm cannot get insurance benefits when they receive trastuzumab treatment after surgery.
Q: What types of patients receive the Kadcyla therapy, then?
A: Sixty percent of patients who received TCHP treatment as pre-operative adjuvant therapy confirm cPR. This means about 40 percent of early-stage HER2-positive breast cancer patients fail to attain cPR and show invasive non-PCR, although they had received pre-operative adjuvant therapy and surgery. Kadcyla plays an important role in treating these patients.
Q: Kadcyla adjuvant therapy began to receive insurance benefits. What are patients' responses to it?
A: Patients who had received Kadcyla treatment without insurance benefits were overjoyed, of course. They are very satisfied with receiving the treatment with much smaller financial burdens. Patients who begin receiving Kadcyla treatment can also enter the process without much hesitation now that financial hurdles have been removed.
Q: What unfulfilled demands are left in treating early-stage HER2-positive breast cancer patients?
A: There is room for improvement in the area of brain metastasis. A patient experienced recurrence despite administering Kadcyla – that was the case of brain metastasis. We performed surgery and removed one lesion, and the patient is faring well while receiving treatment based on trastuzumab + perjeta therapy. However, patients with residual cancer are still at high risk even after receiving Kadcyla treatment as pre-operative adjuvant therapy, requiring caution.
Copyright © KBR Unauthorized reproduction, redistribution prohibited