International Vaccine Institute (IVI) Director General Jerome Kim said inequities in key areas of the vaccine industry exacerbated issues in global vaccinations.
His comments came at a webinar on Monday convened by the Center for Social and Economic Progress (CESP) on the sideline of the G20 summit to discuss global health priorities in Southeast Asia.

The G20 summit is a multilateral platform connecting the world's major developed and emerging economies to secure global economic growth which welcomed world leaders last week from Nov. 13-16 in Bali where a pandemic fund was featured as one of the main outcomes.
Following this, the webinar featured Asian Development Bank Principal Health Specialist Eduardo Banzon, International Vaccine Institute (IVI) Director General Dr. Jerome Kim, and Leadership Institute for Global Health Transformation (LIGHT) Director Jeremy Lim.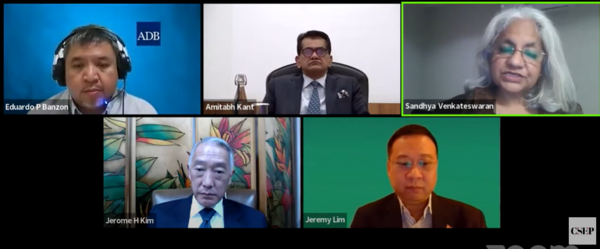 In the webinar, Dr. Jerome Kim first noted the inequities across key areas like diagnostics, R&D, manufacturing, vaccine supply and vaccination which drag on impact. Referencing the Developing Countries Vaccine Manufacturers Network (DCVMN), he emphasized, "The manufacturers of 60 percent of the 12 billion global vaccine doses, from which China and India contributed heavily, only received 5 percent of the R&D funding in 2021 and 2022."
The DCVMN is a voluntary public health-driven alliance of vaccine manufacturers from developing countries, dedicated to providing a consistent and sustainable supply of quality vaccines at an affordable price against known and emerging infectious diseases globally.
In order to prevent more deaths in future pandemics, Kim stressed the need for these DCVMN countries to also be funded by including them in the CEPI 100-day mission going forward.
Providing a financial perspective, Banzon chimed in saying that the reason for higher investment in developing countries was because funding agencies assumed that developed countries had stronger regulating agencies to produce safer vaccines. However, this was later contradicted when the World Health Organisation (WHO) released a benchmarking tool which showed countries like Indonesia, Thailand, Vietnam and Singapore on the list of maturity level 3 and 4 (ML3 and ML4) regulatory agencies alongside China and India.
"This shows that developing countries in Asia have the necessary regulatory capacity and pharmacovigilance required to make vaccines and therapeutics and should be enough to convince funding agencies." said Banzon.
He emphasized that funding agencies in the past have played a key role in financing the mechanisms needed to support and reduce global inequities like the UN millennial development goal (MDG) 6 which mobilized GAVI, the Vaccine Alliance, and the Global Fund to fight AIDS, tuberculosis and Malaria.
"In the same way, the recently announced $1.4 billion pandemic fund pledged by health and finance ministers at the G20 summit will also play a key role to mitigate the health inequalities aforementioned by Dr. Kim," he added.
Meanwhile, Dr. Lim highlighted Universal Health Coverage (UHC) as another global health priority to provide all people with access to the health services without financial hardship, adding that the WHO and G20 play a powerful role in shining the spotlight on this area.
He further added, "Long Covid is also accelerating the demand for healthcare services which will inevitably continue increasing healthcare expenditure and thus warrants newer models of care to ensure sustainable healthcare delivery."
Related articles
Copyright © KBR Unauthorized reproduction, redistribution prohibited