SK Bioscience shares plummeted Wednesday morning after the company admitted that it had suspended production of SKYCovione, the first domestically developed Covid-19 vaccine.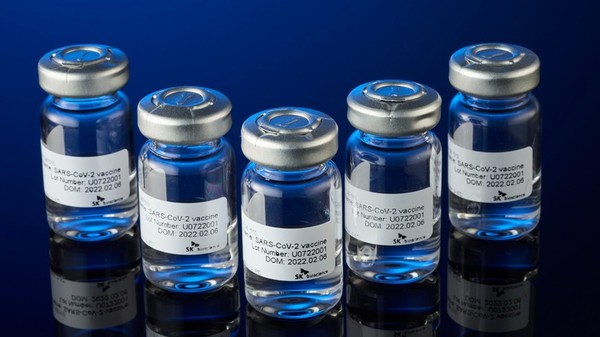 At 12:00 p.m., on Wednesday, SK Bioscience shares stood at 79,500 won ($58.80), down 8.3 from the previous trading day.
News reports said SK Bioscience temporarily suspended production of SKYCovione after the government has not placed any additional orders after the initial 600,000 doses.
The government had previously agreed to purchase 10 million doses of SKYCovione.
SK Bioscience admitted the news on Wednesday.
"Currently, our company is not producing any additional finished products of SKYCovione after the initial supply due to the low inoculation rate," the company said in a regulatory filing. "We will resume production and supply at a later date at the request of the government."
The global approval process for overseas sales is in progress, it added.
An SK Bioscience spokesperson stressed that the company might resume production at any time in the future.
"I don't think the term suspension is correct as we may resume production at a later date," the official said. "Vaccines are produced according to production and order plans, and we can resume production at any time."
As the company has applied for global approvals from the World Health Organization, Europe, and the U.K., it believes production can begin again, he added.
However, industry watchers say that the future is not so bright for SK Bioscience.
In Korea, the company is struggling to increase the vaccination rate using its vaccine.
According to the Korea Disease Control and Prevention Agency (KDCA), SKYCovione was vaccinated by a cumulative of 3,665 people as of Sunday.
When looking at November alone, only 493 people received SKYCovione.
During the same period, 54,711 people received the Pfizer vaccine, and 9,254 received Novavax's vaccine, which is the same recombinant protein type vaccine as SKYCovione.
Adding on to SK Bioscience's woes, the government has also decided to no longer use SKYCovione as a booster shot, which accounts for a majority of the cases, from December.
SKYCovione's overseas expansion is also being delayed.
SK Bioscience had originally planned to target low-income countries such as Africa and Latin America with its vaccine.
SK Bioscience applied for conditional approval to the U.K.'s Medicines Regulatory Authority (MHRA) and the European Medicines Agency (EMA), in July, and Emergency Use List approval to the WHO, in September.
However, the company has yet to receive approval for any of its applications.
Industry watchers said the longer the WHO EUL registration is delayed, the less likely that the company will have competitiveness in developing countries.
"This is because Chinese companies that have received EUL for their Covid-19 vaccine are already entering such markets with a low price tag," an industry source said.
Related articles
Copyright © KBR Unauthorized reproduction, redistribution prohibited