As human life expectancy increases with the development of science and technology, concerns about "death with dignity" are deepening from the aspect of medical ethics.
Death with dignity and the right to self-determination has recently emerged as major issue of medical ethics.
Previously, the matter mainly dealt with "passive death with dignity" that allowed patients on their deathbeds to decide to stop life-sustaining treatment. Lately, some lawmakers have even sponsored a bill for "assisted death with dignity," a.k.a. the "Assisted Suicide Act."
However, some experts point out that such discussions are premature. Understanding the human desire to determine life or death may be necessary. However, when there is no agreed definition of "death with dignity," it is too early to permit "positive death with dignity" by law, the experts added.
The controversy explains why the Korean Society for Medical Ethics (KSME) has chosen "Death with dignity and the right to self-determination" as the theme for its joint academic conference that opens Friday. The society said that a social consensus on death with dignity should precede discussing the legal amendment.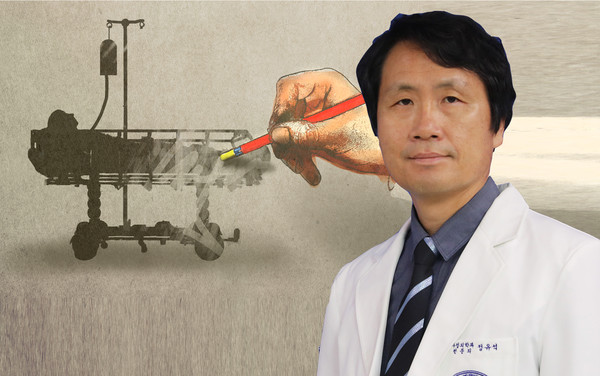 "We welcome that the proposal of the 'Assisted Death with Dignity Act' has pushed the right to self-determination of death, which had been a taboo, to the surface," said Professor Jeong Yu-seok of the Department of Family Medicine at Dankook University Hospital, who concurrently serves as the president of the society. "However, it's as if the cart came before the horse if we jump to the irreversible state of turning assisted suicides into a law without a sufficient social discussion about death with dignity."
Even in the Netherlands and Switzerland, which permit death with dignity by law, doctors reluctantly responded to the debate after their societies underwent sufficient social discussion and the atmosphere became ripe, he added.
"Before discussing legislation, the social debate should come, and all parties involved should preliminarily think about how to prevent expected side effects," Professor Jeong said. "The proposal of the assisted death with dignity law may be significant in this regard."
Noting that medical judgments alone cannot determine death, Jeong said, "We must discuss the issue of death along with several other issues, including culture, society, and demography. Moreover, it would pose heavy additional burdens on doctors already reeling with decisions to stop life-sustaining treatments."
He added that if the proposed law is implemented without sufficient social discussion, social side effects are bound to be greater.
"People talk about 'assisted death with dignity,' but it's actually 'assisted suicide.' Foreign examples also show that the legislation of assisted suicide has led to the increase of the general suicide rate," he said. "The risk increases for lowering the threshold for suicide."
Jeong pointed out that in a country with a wide wealth gap, like Korea, economic difficulties can become the primary reason for mental pain. "If this law is implemented, socially weak people are more prone to choose suicide to escape economic hardships."
Noting that more and more issues have become linked to medical ethics, Professor Jeong stressed the need for clinical physicians to have more interest in ethical issues.
He explained that the KSME is developing standard operating guidelines for various medical societies.
"The existing ethical committees run by various societies have been like disciplinary organs," he noted. "However, if each society sets up an appropriate ethics committee and runs it according to standard guidelines, it will form a regular networking, reinvigorating related discussions."
Jeong expressed his hope that various medical societies would try to create an environment where doctors become more trustworthy among the public. "To do so, I hope clinical doctors more actively participate in ethical committee networks."
Copyright © KBR Unauthorized reproduction, redistribution prohibited