A research team at the Korea Advanced Institute of Science and Technology (KAIST) said it developed fabric-based wearable blue organic light-emitting diodes (OLEDs) that can treat jaundice in newborns.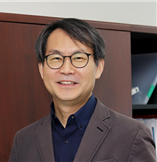 Hospitals currently treat neonatal jaundice in a variety of ways, including phototherapy, drug administration, and transfusion.
Among them, phototherapy is the most widely used as a safe and effective treatment that transforms bilirubin accumulated in the body by exposing it to light and releasing it out of the body.
However, when the bilirubin concentration in the newborn's blood exceeds the treatment range, the hospital admits the newborn to the neonatal intensive care unit (NICU) and treats them with blue LED light mounted on an incubator stand.
Although this method is very effective in alleviating the symptoms of neonatal jaundice, medical staff still have to isolate the newborn from the parents and completely cover the eyes of the newborn to prevent damage to the retina caused by blue light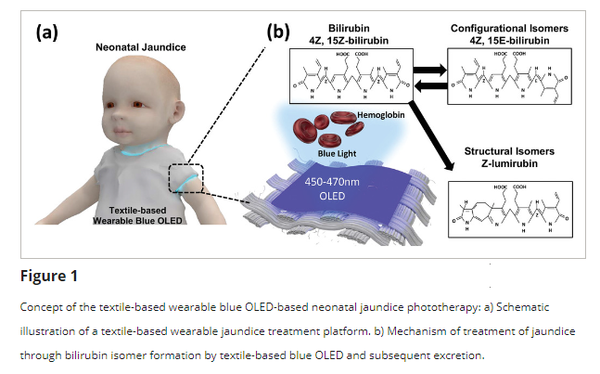 To resolve this issue, Professor Choi Kyung-cheol of the Department of Electrical and Electronic Engineering, installed a high-power, high-reliability blue OLED with a wavelength of 470 nm, which is effective for treating jaundice, on a fabric that newborns can wear.
Professors Kim Seung-yeon and Ihm Chun-hwa at Eulji Medical Center, Jeon Yong-min at Gacheon University, Kwon Jeong-hyun at Sunmoon University also participated in the study.
The device secured sufficient for jaundice treatment even at a low voltage of less than 4V, a long running time of more than 100 hours, and a low operating temperature of fewer than 35 degrees Celsius.
When using the device, the team confirmed the bilirubin level reached 12 mg/dL, which is considered to have completed jaundice treatment, within three hours.
The research was published in Advanced Science on Oct. 30 and was selected as the cover paper.
Copyright © KBR Unauthorized reproduction, redistribution prohibited