Takeda Pharmaceutical Korea has proven the efficacy and safety of Ninlaro, a multiple myeloma treatment (ingredient: ixazomib), in Koreans through real-world data.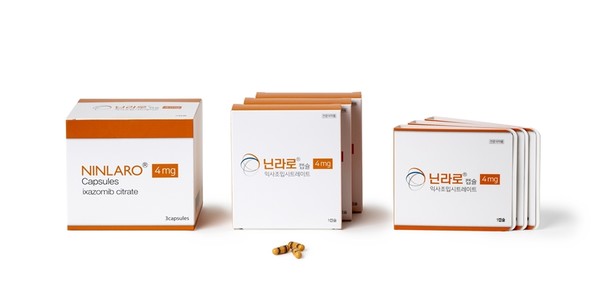 The study included 60 patients who received Ninlaro in combination with two other treatments (ixazomib + lenalidomide + dexamethasone) at eight Korean medical institutions from August 2019 to December 2020.
The objective response rate (ORR) was tallied at 85 percent, including 53 percent of patients with a very good partial response (VGPR) or better.
Also, the clinical benefit of the triple-drug regimen with Ninlaro was seen in 92 percent of patients, and the median progression-free survival (PFS) after 23.6 months median follow-up (0.5 months-35.5 months) was 25.9 months. This is an improvement over the 20.6 months confirmed in the prospective phase 3 TOURMALINE-MM1 study of the three-drug regimen of Ninlaro.
The overall survival (OS) did not reach median values during the study.
The safety profile was similar to that of prospective studies. The most common adverse reactions were rash, nausea, and vomiting.
Takeda Korea emphasized that this real-world study is meaningful in that it confirmed excellent efficacy and safety even though 40 percent of patients included in the study were those who could not participate in the previous prospective study due to physical factors such as underlying diseases.
"This study is meaningful in that it is the first real-world data to confirm the efficacy and safety of the three-combo therapy with Ninlaro for patients with relapsed refractory multiple myeloma in an actual prescription environment in Korea," said Professor Lee Ji-hyun of the Department of Hematology-Oncology at Dong-A University Hospital.
Lee Sun-jin, head of oncology at Takeda Pharmaceuticals Korea, also said, "This study is significant as the study is on patients in the early stages of Ninlaro prescription in Korea registered between 2019 and 2020, and it is the first real-world study for the drug published in Asia."
Copyright © KBR Unauthorized reproduction, redistribution prohibited