GSK has decided to voluntarily withdraw Juluca (dolutegravir/rilpivirine), the company's first-ever two-drug regimen of HIV treatment, three years and nine months after it won the permit in Korea.
According to the Ministry of Food and Drug Safety, GSK withdrew the permit of Juluca Tab. on Monday.
According to industry insiders, the voluntary withdrawal seems to reflect GSK's decision to concentrate more on the other two-drug HIV treatment, Dovato (dolutegravir/lamivudine).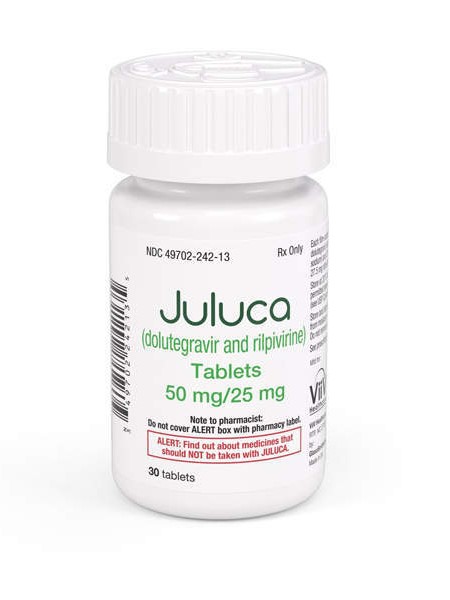 Juluca was approved in February 2019 to treat HIV patients who have reliably contained the virus for more than six months without failing in previous treatments.
At the time of the approval, Juluca proved its efficacy by maintaining virus containment in 84 percent of patients administered with its two-drug therapy instead of the previous three-drug or four-drug therapies based on the three-year data of SWORD 1-2 clinical trials.
There were concerns that caution was needed due to the lack of tolerance data compared to the existing therapies. However, GSK won approval for another two-drug HIV treatment Dovato in 2020 by supplementing tolerance data for three years.
Afterward, Juluca proved its safety by accumulating long-term data and recorded sales of more than 900 billion won ($664 million) worldwide last year. However, the company has not even applied for its insurance coverage in Korea because of the existence of an alternative treatment, Dovato.
"Juluca is a product to which there is an alternative in the domestic market," a GSK Korea official said. "GSK has voluntarily withdrawn Juluca's approval to concentrate on chosen therapies in major treatment areas strategically."
Dovato won insurance benefits from June 1, 2020, just two months after it won the approval in the domestic market. Its global sales also increased rapidly to surpass those of Juluca in the fourth quarter of 2020. Its sales exceeded 1 trillion won worldwide last year.
Copyright © KBR Unauthorized reproduction, redistribution prohibited