Lunit said on Monday that it became the first software as a medical device (SaMD) company in the Asia Pacific region to earn accreditations from the UK and Europe for its artificial intelligence (AI) medical solutions.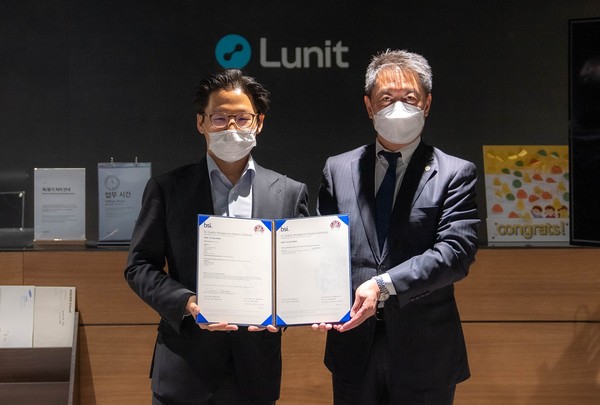 Both Lunit INSIGHT CXR and Lunit INSIGHT MMG, an AI solution for chest radiology and mammography analysis respectively, received the CE marking under Europe's newest Medical Device Regulation (MDR) and UK Conformity Assessed (UKCA) certifications.
According to the company, Lunit INSIGHT CXR, which received its first CE marking in 2019, is capable of detecting 10 chest abnormalities with 97-99 percent accuracy, including pulmonary nodules, pulmonary fibrosis, pneumothorax, and tuberculosis screening. Subsequently, Lunit INSIGHT MMG, which detects breast cancer with 96 percent accuracy, received its first CE marking in 2020.
The European MDR, officially announced in May 2017, is the succeeding regulation of the existing Medical Device Directive (MDD), which imposes stricter guidelines on medical devices sold or exported into Europe.
However, both the MDR and UKCA certifications are mandatory for commercialization in Europe and the U.K. including devices already on the market. Failure to acquire MDR certification by May 2024 and UKCA certification by June 2024 will result in a sales ban across Europe and the UK.
"Our MDR CE and UKCA certifications demonstrate Lunit's high product power and advanced regulatory compliance capabilities," Lunit CEO Brandon Suh said. "We will continue reacting proactively to European market trends to accelerate our business expansion."
In this regard, APAC Commercial Operations Director of Regulatory Service of the medical devices division, Teruo Shingai, at the British Standards Institution (BSI) congratulated Lunit on being the first to obtain the MDR CE and UKCA certification in the Asia Pacific region.
Copyright © KBR Unauthorized reproduction, redistribution prohibited