Yuyu Pharmaceutical unveiled its plans to conduct U.S. and EU clinical trials for using dutasteride to treat androgenetic alopecia (AGA) during the World Congress for Hair Research 2022 held in Melbourne, Australia, from Friday to Monday.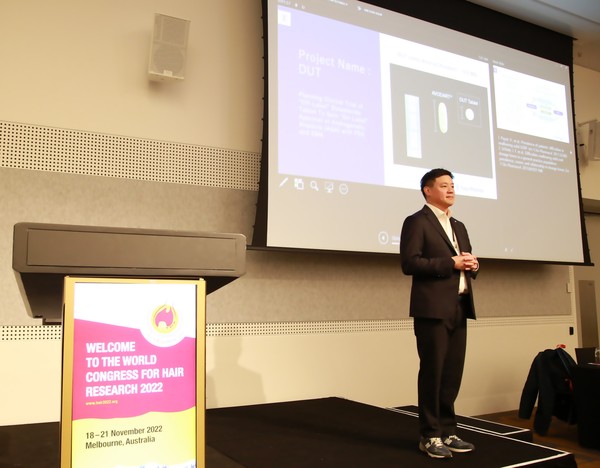 The trial aims to improve patient convenience by reducing the current dutasteride tablet size to one-third while maintaining the same 0.5mg dose as the original drug.
The company plans to start clinical trials in 2024 after pre-IND meetings with the U.S. Food and Drug Administration and European Medicines Agency in 2023 and launch the improved treatment in the U.S. and EU hair loss treatment markets in 2026.
"Dutasteride, which is prescribed to hair loss patients in Korea and Japan, has not yet received approval for such an indication in the U.S. and EU," Yuyu CEO Yu Wan-sang said. "However, the company confirmed that there is a high unmet need as the substance is prescribed off-label in the U.S. and EU."
Since Yuyu Pharmaceutical is currently manufacturing and marketing dutasteride-based medicines, the company believes that it has sufficient R&D capabilities to develop such a treatment, Yu added.
The dutasteride component has a hair loss treatment mechanism of action that inhibits both 5-alpha reductase Type-I and Type-II, which act to change the male hormone testosterone into Dihydrotestosterone (DHT) hormone that causes hair loss.
The North American hair loss treatment market, valued at $1.8 billion in 2021, is expected to reach $2.9 billion in 2029, recording a compound annual growth rate (CAGR) of 5.9 percent. The EU hair loss treatment market is also expected to have a CAGR of 6.1 percent and reach $1.39 billion in 2027.
Copyright © KBR Unauthorized reproduction, redistribution prohibited