Lilly Korea said on Monday that its CDK 4&6 inhibitor Verzenio (ingredient: abemaciclib) has been approved by the Ministry of Food and Drug Safety (MFDS) on Friday for an additional indication for high-risk early breast cancer.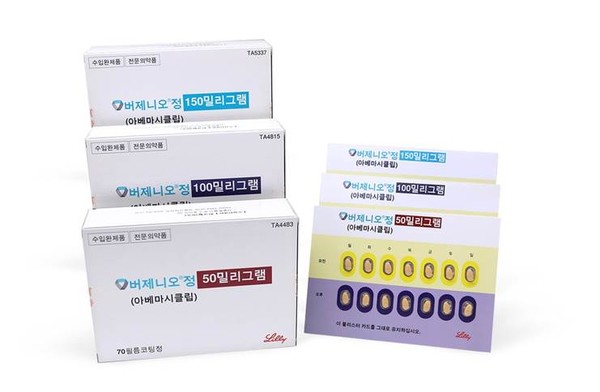 Specifically, it was approved for hospital patients with a high risk of recurrence of HR+ (hormone receptor-positive)/HER2- (human epithelial growth factor receptor 2-negative) type lymph nodes with high-risk early breast cancer.
The prognosis of HR+/HER2-type early breast cancer is generally positive, but about 20 percent of patients experience refractory metastatic recurrence. The risk of recurrence is the highest two to three years after diagnosis, especially in patients with lymph nodes benign high-risk early breast cancer.
The expansion of the indication was based on results from Verzenio's monarchE Phase 3 study in 5,637 adult women and men with HR+/HER2- type benign high-risk early breast cancer who underwent resection. Patients who participated in the clinical trial were randomly assigned 1:1 to the combination of Verzenio and standard endocrine therapy or standard endocrine therapy alone as the control group for 2 years. This was then followed by continued adjuvant endocrine therapy for 5 to 10 years on the recommendation of the attending specialist.
Accordingly, invasive disease-free survival (IDFS) at three years of follow-up and distance relapse-free survival (DRFS) all showed significant improvements in the Verzenio group compared to the control group. Also, the risk of recurrence and death was reduced by 30 percent in the Verzenio group, and the risk of remote recurrence and death was also reduced by 31 percent.
The safety profile was consistent with the results of Verzenio's previous clinical trials of metastatic breast cancer and no new safety indications were added.
"HR+/HER2-type early breast cancer generally has a positive treatment prognosis, but about one in five patients undergoing conventional auxiliary endocrine therapy experience recurrence, which lowers survival rates," said Professor Sohn Joo-hyuk of Oncology at Severance Hospital.
"These patients need better treatment options due to the high psychological burden of recurrence during the treatment process," said Lilly Korea CEO Christopher Stokes. "We are very happy to present new options for them."
Copyright © KBR Unauthorized reproduction, redistribution prohibited