Moderna started to receive recognition as a messenger RNA (mRNA) powerhouse after developing an effective Covid-19 vaccine less than a year after the Covid-19 pandemic first started.
However, with the Covid-19 pandemic becoming more of an endemic than a pandemic, both industry watchers and investors are asking whether the company will be able to sustain its momentum after Covid-19.
Korea Biomedical Review met with Melissa J. Moore, Chief Scientific Officer of Moderna, to hear about the company's ambitious plans moving forward and Moderna's growth potential based on its excellent mRNA platform technology and its role in improving global public health.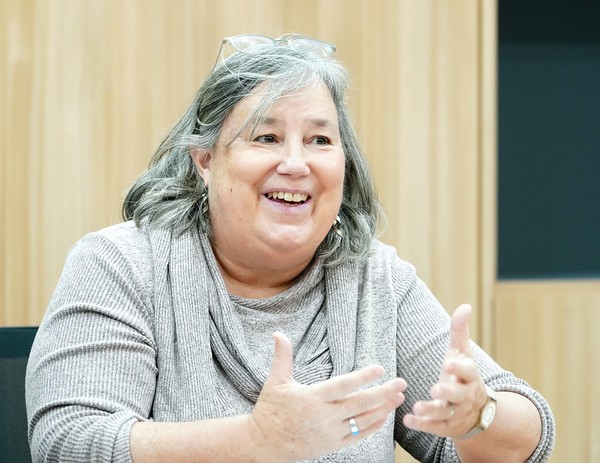 Question: Please explain a little bit about yourself.
Answer: Before joining Moderna, I worked as a professor at the University of Massachusetts Medical School and co-director of the RNA Therapeutics Institute (RTI).
Then, in 2016, I was appointed Chief Scientific Officer of Moderna.
From 2016 to 2021, I led early development research related to platform technology at Moderna.
In the early days, I oversaw research on designing mRNA engineering sequences, developing them into drugs, and delivering them to cells that need them.
My roles have changed a bit since last year, and I am now focusing on promoting Moderna's science to the general public.
This is because we are confident that mRNA technology will never disappear and is a proven technology. I am working to educate the general public and medical staff about exactly what mRNA technology is and how it works.
Q: What is your evaluation of the safety and efficacy of mRNA-based vaccines? Also, as the platform is fairly new, do you believe that the safety will persist in the long run?
A: In terms of Covid-19, data released in November 2020, showed that the mRNA vaccine was more than 94 percent effective against Covid-19 infection, which is quite a surprising result.
Also, the safety of mRNA vaccines continues to be proven, and side effects occur at a similar level to other vaccines.
There aren't any major concerns about long-term safety, as humans already have a huge amount of mRNA in our bodies, and mRNA is an essential element for all living things.
This is the part I want many people to understand. Do not regard mRNA as a newly invaded substance.
Also, the mRNA we inject only exists for a limited time in the human body. It is a substance that naturally decomposes and disappears after it has done its job.
Q: With Covid-19 now entering an endemic phase, what are Moderna's plans moving forward?
A: Moderna has a vast development pipeline.
However, Moderna believes that combating Covid-19 will continue to be important.
Many experts predict that Covid-19 will not go away as it turns into an endemic disease.
Like influenza and respiratory syncytial virus (RSV), which cause severe morbidity and mortality, many experts, including Moderna, expect Covid-19 to become a seasonal virus.
A hallmark of respiratory viruses is that it mutates quickly, and I think there will have to be an improved vaccine combating such new variants annually, and people will likely have to get a booster shot every year before winter arrives.
To increase patient convenience, Moderna is trying to incorporate multiple mRNAs that combat respiratory diseases like influenza, RSV, and Covid-19, into one vaccine.
Q: Are there any additional pipelines outside of respiratory diseases?
A: In addition to respiratory viruses, we are also developing vaccines for so-called latent viruses. It is a virus in the body that can be reactivated under stress.
The company has vaccine development programs for cytomegalovirus, Epstein-Barr, Nipah, and Zika virus.
Aside from preventative vaccines, the company also has a broad treatment vaccine development pipeline.
Notably, Moderna has an immunotherapy vaccine program and has been working with Merck for several years to develop personalized cancer vaccines that enable patients' immune systems to recognize cancer.
The company performs deep sequencing on both a patient's tumor biopsy sample and a blood sample, looking for mutations expressed in proteins in the tumor to find mutations found only in cancer cells that do not appear in normal cells.
As the development of personalized cancer vaccines should be developed as soon as possible, we aimed to manufacture a vaccine within 45 days of initial treatment and allow patients to receive the vaccine in combination with their third dose of Keytruda.
Such experience in developing customized cancer vaccines served as the basis for the rapid development of a Covid-19 vaccine candidate during the initial stages of the pandemic.
It is important to note that Moderna had already been administering mRNA vaccines to patients before it developed a Covid-19 vaccine.
In autoimmune diseases, candidates are also being studied to suppress the overactive immune system.
An area in which we have great expectations is our rare disease portfolio.
Moderna is currently conducting clinical trials for three rare diseases -- methylmalonic acidemia, propionic acidemia, von Gierke's disease, and glycogen disease (glycogen storage disease) type 1.
Q: Does the company plan to cooperate in developing mRNA-based vaccines?
A: Yes.
There are over 225 viruses that afflict the human body. However, there are only 25 viruses for which actual vaccines are available, and the global community is challenged to develop more vaccines.
As such, Moderna has implemented an mRNA Access program to help spur the development of more vaccines.
The program helps researchers interested in specific infectious diseases gain access to Moderna's mRNA formulations to test new vaccine designs against infectious diseases.
Researchers participating in this program can request a certain protein they require for the trial, and Moderna will manufacture a suitable mRNA and provide it as a sample.
Notably, Moderna provides the mRNA without any strings attached, and we do not require the researcher to hand over any intellectual property rights or patents after development.
We just want to help people find the best vaccine design.
Q: In terms of supply, cold chain technology is essential for mRNA vaccines as the vaccines have strict temperature conditions. If so, storing vaccines in underdeveloped or developing countries can be a difficult problem. Does Moderna have any plans to address this issue?
A: Various solutions are being presented to solve the cold chain problem, and as a result, Moderna's vaccine was able to have relatively excellent temperature stability compared to its competitors.
However, this does not mean Moderna's vaccine does not require refrigeration.
Internally, various efforts are being made to increase the thermal stability of the vaccine.
Of course, storage at room temperature is ideal, and many efforts are being made to solve this problem.
Another solution is to use a distributed manufacturing model.
The equipment for making mRNA drugs is much smaller than the equipment required for making biologics.
Therefore, it can be moved easily.
Aside from cooperation with our various global partners, including Samsung Biologics, Moderna is also building its manufacturing facilities worldwide, including in Africa and Australia.
The wonderful thing about mRNA is that you can send mRNA sequences to any manufacturing facility worldwide via email or the Internet.
Afterward, it's just about using the sequence for manufacturing the treatment and providing them locally.
Q: Do you have any additional comments you would like to add?
A: We want many people to understand that mRNA is a natural molecule essential to everyone and not a foreign substance.
If this is possible, the reluctance toward mRNA will shrink considerably.
mRNA technology is very interesting and, above all, has the advantage of quickly creating vaccines or treatments.
Related articles
Copyright © KBR Unauthorized reproduction, redistribution prohibited