Korean conglomerates are jumping into the bio-industry after seeing success from predecessors, including Samsung and SK.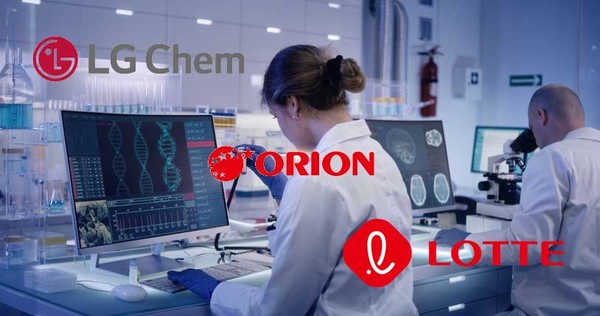 Most recently, Orion Holdings, the holding company of the Orion Group, decided to start the bio business in earnest by establishing Orion Biologics.
In a public filing, Orion Holding said Orion Biologics' main business fields will be developing and marketing pharmaceuticals, consumer goods, and raw food materials.
Orion Holdings expect to incorporate Orion Biologics into a subsidiary on Dec. 16, and the company will raise 9.9 billion won ($7.3 million) in accordance with a future capital increase.
Orion Holdings' stake in Orion Biologics is expected to change to 60 percent after an additional capital increase, according to the joint investment plan in the future.
As a result, the number of subsidiaries of Orion Holdings will increase to a total of four, including Orion, Showbox, Orion Jeju Yongamsoo, and Orion Biologics.
The establishment of the subsidiary follows Orion Group's recent projects to support local clinical trials, licensing, and sales of Korean bio ventures that are trying to enter China.
Orion Group signed a contract with Quratis for the joint development of a tuberculosis vaccine in February, and secured a site to build a vaccine production plant in a bio-industrial complex in Jining, Shandong Province, China, in July.
In May 2021, Orion group also licensed in Genomictree's early detection technology for colorectal cancer.
In November 2021, the company started promoting the commercialization of the product by establishing a production facility for in vitro cancer diagnostic products in China.
Lotte Group also unveiled its plans to enter the bio-industry by establishing Lotte Biologics in June to start a biopharmaceutical consignment development and manufacturing (CDMO) business.
Lotte Group had previously acquired BMS' Syracuse plant, a production facility for antibody drugs, for $160 million (200 billion won) in May, and is looking to build an additional CDMO factory in Korea.
LG Group, which already has a presence in the bio-industry with LG Chem, is also attempting to expand its bio business through large-scale mergers and acquisitions.
In October, LG Chem acquired a 100 percent stake in Aveo Pharmaceuticals, a U.S. bio company, for $566 million.
Aveo markets Fortivda, a kidney cancer treatment that received product approval from the U.S. Food and Drug Administration (FDA) in 2021.
acquisition marked the first case where a Korean biopharmaceutical company acquired a company that has a new drug approved by the FDA.
Copyright © KBR Unauthorized reproduction, redistribution prohibited