Celltrion has won new "domestic" approval for a Humira (adalimumab) biosimilar with the same dosage and formulation as the currently marketed product, drawing the industry's attention to the reason.
According to the Ministry of Food and Drug Safety, Celltrion obtained domestic approval for Yuflyma Pen Inj. 40mg/0.4mL on Thursday last week.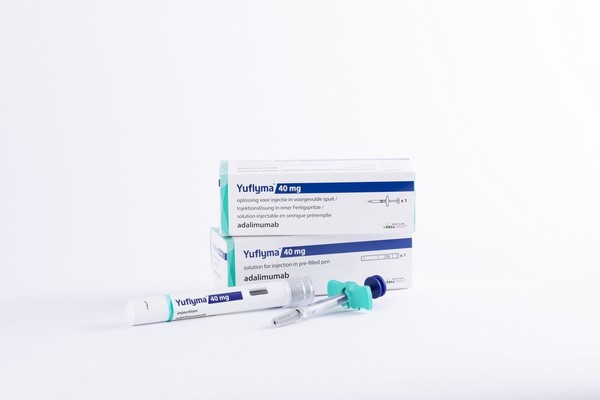 Yuflyma is a high-concentration Humira biosimilar for which Celltrion won permission from the European Medical Agency (EMAQ). Its applications are the same as the reference drug, such as rheumatoid arthritis (RA), inflammatory bowel disease (IBD), and psoriasis (PS).
Notably, Celltrion got the nod for the same "Yuflyma Pen Inj. 40mg/0.4mL" in October last year and has completed its market launch. It is now undergoing the approval process of major general hospitals' Drug Committee (DC).
Commenting on the reasons, Celltrion explained that unlike the existing Yuflyma Pen imported from abroad, the lately approved Yuflyma Pen would be manufactured at home. The company won a new permit because its manufacturing facilities have changed. So, Celltrion gave it a new name as the company could not use the previous one's name.
"For more efficient production and distribution, we have applied for an additional domestic production approval," a company official said.
Celltrion has manufactured the biosimilar in overseas plants, as it won the first approval from EMA, but seems to have decided recently to produce it in Korea. According to the food and drug safety ministry, the existing Yuflyma Pen is manufactured in Belgium and Hungary.
"We might presume that the company had no manufacturing lines of the pertinent drug in its domestic plants but recently built a new factory or expanded the existing one for the product," an industry executive said. "Above all, having a supply network at home is more advantageous regarding procedures and cost cuts than having it overseas."
Celltrion emphasized that while the existing Humira biosimilars have been developed as a low-concentration product, Yuflyma is a high-concentration formulation with a halved injection dosage. The drug price for a single dose of Yuflyma Pen Inj. 40mg/0.4mL released in Korea is 244,877 won ($183). When the 10 percent rule of special calculation is applied, the patient's burden is 24,488 won.
Copyright © KBR Unauthorized reproduction, redistribution prohibited