Amgen executive praises domestic firms' 'scientific quality'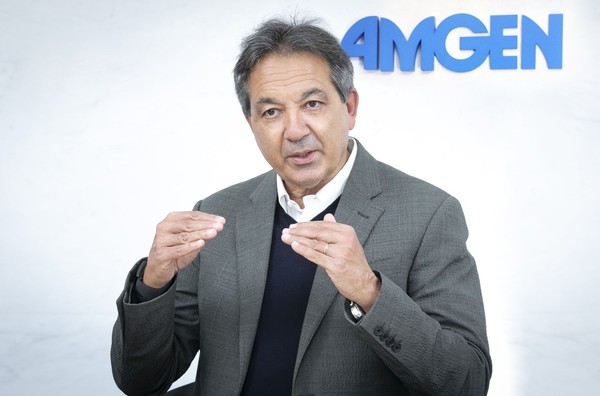 "Korean biotechnology companies' scientific quality does not lag behind other countries. However, they fall somewhat short of understanding what the medical community and biotech industry want."
So said Philip Tagari, vice chair for Amgen's R&D, who visited Korea to attend the "Second KHIDI-AMGEN Science Academy: Bio Day" while commenting on the Korean biotech companies.
Korea has conducted "KHIDI-AMGEN Science Academy: Pitching Day" or "Bio Day" events to find Korean biotech companies capable of developing innovative technology and cooperating with the Korea Health Industry Development Institute (KHIDI).
Amgen is a global pharma company known especially for brisk R&D and open innovation activities. Vice Chairman Tagari is in charge of research and development at the company.
Korea Biomedical Review met with Tagari to hear about the potential of Korean biotech companies as open innovation partners and Amgen's R&D plans.
Question: What's the purpose of your visit?
Answer: I am visiting Korea to attend the "Bio Day" event. The event is an important opportunity to introduce Amgen's ongoing research in basic science to Korean scientific and medical communities and meet innovative Korean bio ventures to seek open innovation and heighten access to each other through networking. I also met three Korean companies selected during the "Pitching Day" even in September and supported their biotechnological innovation.
Q: Do you have criteria for picking partners as Amgen's highest R&D official?
A: In searching for potential collaboration partners and investment opportunities, I pay the greatest attention to their "Quality of Science." As you know, Amgen is a company based on life science, and therefore, it places "Biology First" at the center of its strategy in approaching the R&D of new drugs. Based on these criteria, we evaluate and analyze how solid a potential partner's scientific basis is with a considerably strict standard.
we watch how well the potential partners fit with Amgen's flagship treatment areas, such as oncology, cardiovascular diseases, and inflammatory diseases, or other areas in which we may have interests at some specific time. We also observe their technology or researchers and how much and in what ways they have developed over the past few years. Lastly, we watch their managerial soundness and professional enthusiasm.
Q: You selected Korean bio ventures during the "Pitching Day" event in September. How did you feel about Korean startups' levels and capabilities?
A: We hold similar events worldwide, ranging from Los Angeles and San Francisco to Vancouver, British Columbia, Cambridge, Massachusetts, Taiwan, and Singapore. In conclusion, the quality of science of Korean companies we met during the Pitching Day event was comparable to those of foreign companies in those cities and countries.
these startups showed a slight lack of understanding of what the medical community and biotechnology industry needed of them. This seems to be because Korean bio ventures have had relatively fewer exposures to and exchanges with the medical community or foreign biopharma companies. Therefore, I will advise Korea's promising biopharma companies will make brisk exchanges with their global counterparts on the occasion of events, such as "Bio Day" and "Pitching Day,' and seek to learn about the "needs" and "interests" of the medical community," and the "level of expectations" on these companies' innovation.
While performing the event, I also provided preliminary mentoring to companies on the list of the main-round competition and found differences from foreign companies in this aspect. For example, Korean business officials showed considerable formalities and seemed interested more in business than science. So, I coached them to attend the event with data focusing on contents needed by the medical community and the industry, together with the high-quality technology they had. Foreign companies think these parts are important in seeking foreign partners.
Q: Were there any memorable companies while conducting the Pitching Day event? If so, why?
A: A company introduced an interesting technology. Basgen Bio, which analyzes state-of-the-art genetic data and Korea's electronic medical record (EMR) data, demonstrated considerable scientific quality and analysis skills to become one of the winners during the Pitching Day event.
While meeting with the company, I recalled Dr. Kari Stefansson, head of Amgen's genetics research and one of the world's top authorities in this area. Dr. Kari founded Amgen's subsidiary, deCODE Genetics, which conducts studies that detect and identify the targets of diseases based on genetics. Through this event, I felt that Korean bio ventures' technology could compete with foreign companies related to human genetics shoulder to shoulder.
Copyright © KBR Unauthorized reproduction, redistribution prohibited