To help foster healthcare startups, BMS Korea held the "Seoul BMS Innovation Square Challenge" award ceremony with the Seoul Municipal Government and the Korea Health Industry Development Institute (KHIDI) at Seoul Bio Hub last week.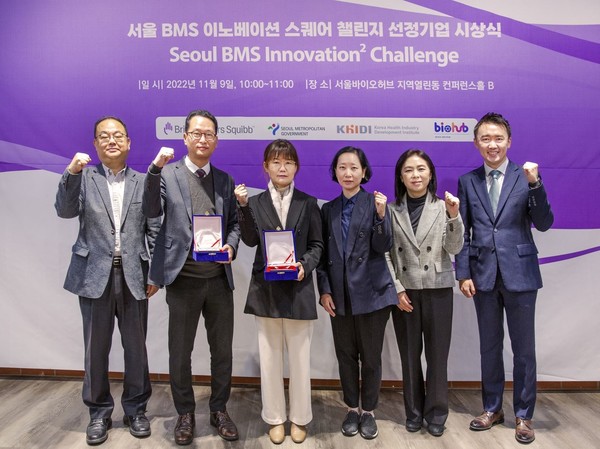 The challenge is an open innovation partnering program pushed jointly by BMS Korea, the City Hall, and KHIDI to discover and develop innovative technology that can change patients' lives with severe diseases.
Prazer Therapeutics won the grand prize in the R&D area, and Zymedi won the top prize in the oncology disease area.
Prazer Therapeutics has SPiDEM platform technology based on the independent, next-generation TPD (targeted protein degradation) technology to treat intractable diseases, such as degenerative brain diseases and malignant tumors.
Zymedi has proposed a new anticancer drug development project based on the mechanism that hinders the combination of the KRAS protein, which promotes the growth of tumors, with the AIMP2-DX2 protein that contributes to the mutation of a cell to cancer.
"Seoul BMS Innovation Square Challenge is the first result of this company's partnership with Seoul City and KHIDI to change the lives of patients suffering from severe diseases," BMS Korea's CEO Lee Hye-young said. "As a global pharmaceutical leader, we will continue to strive to discover and support the domestic startups to speed up innovation for patients."
Copyright © KBR Unauthorized reproduction, redistribution prohibited