SK Bioscience, one of Korea's leading vaccine makers, said it donated 3 billion won ($2.2 million) to the International Vaccines Institute (IVI) on Wednesday to advance global vaccine research and development.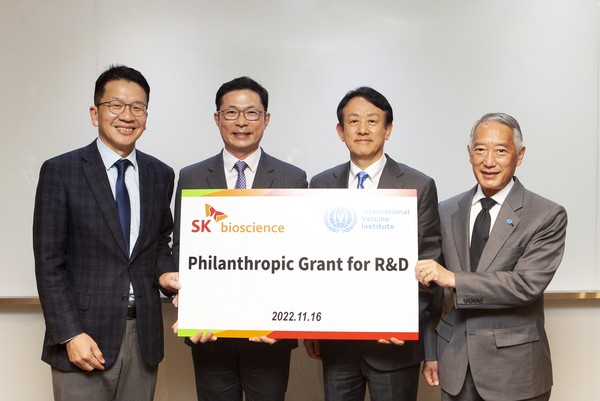 The donation will be used to support vaccine R&D, equipment, and device purchases, it added.
SK Bioscience and IVI have cooperated for nearly a decade to achieve the common goal of promoting global public health. Last year, SK Bioscience successfully developed a typhoid vaccine called SKYTyphoid using IVI's conjugated vaccine production technology.
The development was supported by research funding from the Bill & Melinda Gates Foundation. SK Bioscience was responsible for R&D, production, and licensing, and IVI coordinated global clinical trials.
SKYTyphoid demonstrated excellent immunogenicity and safety through global phase 3 clinical trials conducted in Nepal and obtained an export license from the Ministry of Food and Drug Safety in May. Subsequently, global supply will begin if WHO prequalifies it.
Another success born out of this partnership was Korea's first Covid-19 vaccine, SKYCovione, an alternative synthetic antigen-based vaccine for those hesitant to get vaccinated using newer technologies. IVI conducted global clinical trials and sample analysis to demonstrate its excellent immunogenicity and safety. As a result, SK Bioscience is pushing for a WHO emergency use listing to launch the vaccine on the global market.
"As seen by these two vaccines brought to market, the SK Bioscience-IVI partnership has been one of the best examples of global public-private partnerships for accelerating vaccine development for global public health," said IVI Director General Dr. Jerome Kim. "We are grateful for SK Bioscience's leadership, generosity, and commitment to advancing IVI's global vaccine R&D and look forward to continued partnership with them."
SK Discovery Vice Chairman Choi Chang-won said, "The Covid-19 pandemic has illustrated that companies, institutions, or governments can't cope with future pandemics alone,"
Strengthening cooperation with IVI will be a cornerstone to protect the health and happiness of people, he added.
Copyright © KBR Unauthorized reproduction, redistribution prohibited