CHA Vaccine Institute announced it is developing a mixed vaccine to prevent Covid-19 and influenza at the 2022 Hwasun International Vaccine Forum last Friday.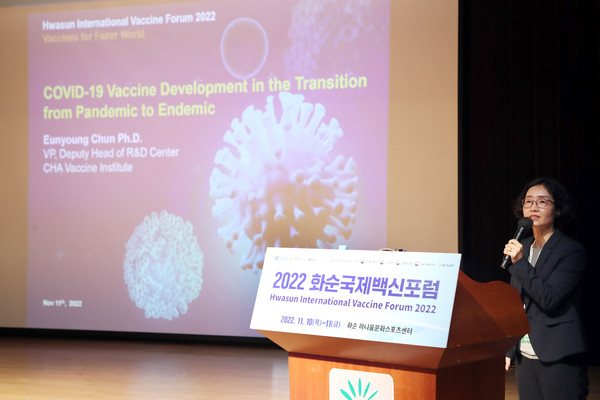 The research institute said the combination vaccine aims to improve convenience and preventive effects for the elderly. The candidate substance can simultaneously increase immunity against Covid-19 and influenza and increase the preventive effect, especially for older adults with reduced immunity, said Jeon Eun-young, deputy head of R&D at the institute.
L-Pampo, an immune enhancement platform, induced a higher level of immunogenicity than the immunostimulant used in conventional vaccines, according to Jeon.
The institute confirmed the combination vaccine's efficacy on older adults with reduced immunity by activating a somatic immune response that promotes antibody production against antigens of the two viruses and a cellular immune response that directly attacks the virus.
The Ministry of Health and Welfare has selected the combination vaccine candidate for its "Future Growth High Value-Added Vaccine Development Project."
As Covid-19 gradually enters the endemic phase, the combination Covid-19-influenza vaccine is drawing attention to enhance seasonal vaccine convenience, Jeon said. She cited a recent study that found if people are infected with influenza, they become more susceptible to the Covid-19 virus as the receptors for the Covid-19 virus increase.
According to the World Health Organization (WHO), the fatality rate from seasonal influenza is 0.8 percent, and the fatality rate from Covid-19 is 6 percent. If people are infected simultaneously with Covid-19 and influenza, the fatality rate rises 1.6 times higher than influenza infection alone. However, existing vaccines do not induce sufficient vaccine efficacy for older adults who have lost their immune function due to aging.
"We are developing premium vaccines that exceed limitations of existing vaccines by utilizing the excellence of our self-developed immune enhancement platform," CHA Vaccine Institute CEO Yum Jung-sun said. "We will continue actively conducting research to secure vaccine sovereignty and international competitiveness."
Copyright © KBR Unauthorized reproduction, redistribution prohibited