SK Bioscience's Covid-19 vaccine, SKYCovione, is struggling to sell in Korea because of the introduction of bivalent booster vaccines by multinational pharmaceutical companies, such as Moderna and Pfizer, government data showed.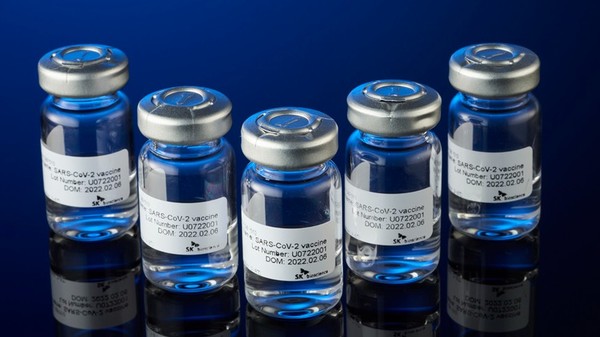 According to the "Covid-19 Vaccination Safety Report," released by the Korea Disease Control and Prevention Agency (KDCA) on Thursday, the cumulative number of people who received SKYCovione at week 88 (until Nov. 6) after Korea started providing Covid-19 vaccines was 2,987, an increase of 971 compared to week 86 (Oct. 23).
However, the pace is slower than the changes from the week 84 to week 86, which was an increase of 1,321.
The quick drop in SKYCovione vaccination is likely due to the new bivalent vaccine based on Omicron BA.1 variant developed by Moderna becoming available from Oct. 11.
At week 86, the number of vaccinations using Moderna BA.1 bivalent vaccine was 607,200.
SK Bioscience also faces additional woes as the government is expanding the introduction of bivalent vaccines, with Pfizer's BA.1-based bivalent vaccine available from Monday, and BA.4 and 5-based bivalent vaccine to be available from next Monday.
While it is a positive sign for SKYCovione that its adverse event reporting rate is 0.33 per 1,000 cases, which is lower than that of conventional vaccines, Moderna's new BA.1 bivalent vaccine has also showed an adverse event reporting rate of 0.33 per 1,000 cases.
Meanwhile, the reporting rate of abnormal cases after the Covid-19 vaccination at week 88 was 3.69 per 1,000 cases.
People in their 30-39 accounted for the highest number of adverse events with 4.93 cases per 1,000, and those over 80 years old had the lowest rate with 1.92 cases per 1,000.
By vaccine, Janssen's Covid-19 vaccine had the highest number of adverse cases with 5.88 per 1,000 cases, followed by AstraZeneca 5.42 per 1,000 cases, Moderna 4.5 per 1,000 cases, Pfizer 3.03 per 1,000 cases, Novavax 1.37 per 1,000 cases, SKYCovione 0.33 per 1,000 cases, Moderna's BA.1 0.33 cases per 1,000 cases.
Related articles
Copyright © KBR Unauthorized reproduction, redistribution prohibited