Many people are busy getting ready to participate in CES 2023, the world's largest tech exhibition in Las Vegas, Nev., from Jan. 5-8.
Preliminary applications are rushing not only from large conglomerates, including Samsung, SK, and Hyundai Motor groups, but also from SMEs, startups, industry-university coop firms, and individuals to inform and know new trends first.
Notably, SK Biopharmaceuticals, a biopharmaceutical affiliate of the SK Group, will participate in CES for the first time. SK Biopharmaceuticals started from the group's new drug development project in 1993. The company established the living science business division through the physical division of the existing unit in 2011.
SK Biopharmaceuticals is in full charge of the digital health business pushed by the group with renewed focus. Although it is attending the CES for the first time, the company plans to unveil various core technologies to expand its corporate value to the digital healthcare and wellness field.
However, attending CES is easier said than done. The exhibition halls are so diverse and enormous that visitors are highly likely to spend their time without getting much if they don't prepare carefully.
So, this seems to be the time to "boldly" unveil my seven know-how accumulated over the past 10 years to help newcomers enjoy CES.
First, many people have never been to CES, but no one goes there only once.
At the beginning of the year, without exception, all media outlets flood out articles about CES. Even people who weren't interested in it at first start searching, thinking, "what's this all about?" when the word CES frequently appears on the media and portal site news.
Don't be ashamed even if you've searched the word CES for the first time. Just remember this saying of ancient sages; It's not a shame to know nothing, but it's a shame to try to learn nothing.
Those who first visit CES exhibition halls ask themselves, "Who am I, and where am I?" Some have regrets, saying, "Why did I come here spending a handsome amount of money?"
If your say so, you have entered the highway tollgate where you can enjoy CES. CES, which has an exhibition area of 20 football stadiums, is spread out throughout Las Vegas. Names of the exhibition hall are also unfamiliar.
There are more obstacles. If you are a business person and want to attend buyer meetings, various host invitation events and keynote presentations held simultaneously at scores of hotels in the heart of Las Vegas, that will prove to be a mission impossible unless you are the Tom Cruise character.
Large conglomerates' executives face little difficulty as their subordinates wait on their bosses. However, heads of small- and medium-sized enterprises accompanying a couple of employees will end up hassling their staff. Don't do that! It's not the employees' fault. CES is to blame.
I want to say a word to the large company executives, too. Your comfort there was not earned for nothing. So remember the employees who have made thorough preparations for months to avoid upsetting their bosses.
You can enjoy CES best when you pay your dues.
Second, pay attention to UREKA PARK because giant exhibition halls are just for show.
Korean media's reports on CES largely concentrate on large conglomerates, including Samsung Electronics, LG Electronics, Hyundai Motor Group, SK, and Doosan. It is natural that media attention focuses on big businesses because they make the most careful preparations, and their chairmen and other executives deliver keynote speeches on the global stage.
Most first-time participants usually tend to visit the exhibition halls of well-known brands.
In CES 2022, Samsung Electronics limited the number of visitors to a certain target for fear of Covid-19 infections. Some visitors had to wait nearly two years after registration, reflecting the company's popularity.
A long queue also formed in front of the Hyundai Motor Group's pavilion located in the Las Vegas Convention Center (LVCC) West, built at the cost of $1 billion by the Consumer Technology Association (CTA), the organizer of CES. However, visitors' zeal end there. The first response from most of the first-time participants I met was, "I've already seen these things from media reports." If so, you are now opening your eyes little by little.
If you attend CES for the second year, you'll pass the large company halls and attend two courses first.
One is the Innovation Awards hall, where the organizers gathered the best innovative products of the year in 27 categories selected by tech judges. Since it's a comprehensive exhibition with only the essence, you can quickly grasp technological trends and the overall flow while saving time.
The other is UREKA PARK. As the name symbolizes, UREKA PARK is the place that houses the booths of startups, SMEs, universities, and countries, comparable to the heart of a newborn that instills vigor into CES.
This writer spend more than half of the four days in UREKA PARK whenever I attend CES. Then, if I have spare time, I visit large companies' booths – or skip them altogether.
At UREKA PARK in 2017, I found a familiar-looking middle-aged gentleman with white hair carefully looking around various corners with vinyl bags in both hands. He was Jack Dangermond, the founder of Esri, often called the "Bill Gates of the GIS geographic information industry." I asked the tycoon worth several trillion won why he visited UREKA PARK.
"The place I like most and have the greatest interest in CES is UREKA PARK," he said. "It's good to hear fresh stories from young people in this vibrant place, which also gives me energy that brings back memories of when I started a business."
He was a "master" himself, communicating with young startup founders and finding ways to bolster their morale. As far as I remember, it was difficult to find Koreans visiting UREKA PARK as recently as five years ago.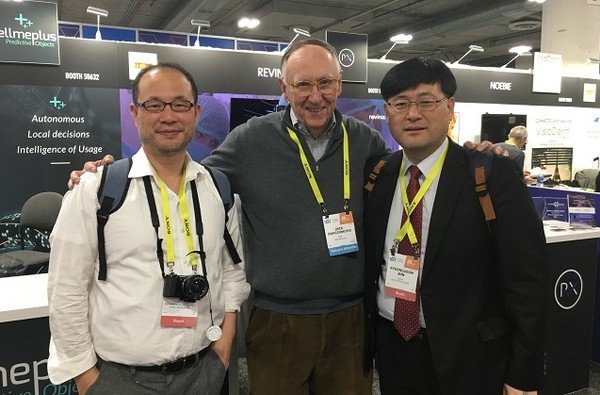 In the CES 2022, the scenes changed completely. The chairmen and senior executives of large enterprises were often seen at UREKA PARK. Unlike large companies' exhibition halls left vacant due to cancellation over Omicron concerns, UREKA PARK was so crowded with visitors that organizers had to worry about Covid-19 infection, proving it still was the heart of CES.
There is a saying in CES: Big businesses "put on a show," SMEs "do business," and startups "talk about dreams."
At CES, go to UREKA PARK first, and it's never too late to visit large companies' halls.
Third, pay attention to booths that made their first appearances that year.
CTA holds the CES Unveiled Las Vegas event for reporters worldwide two days before the show's opening every year.
This author picked an aerospace area and agriculture-related industries, including food tech, as the top priority this year.
Amazon founder Jeff Bezos, Tesla founder Elon Musk, and Virgin Galactic founder Richard Branson are competing to develop the space industry. So the first participation in the Space Tech area by Sierra Space drew lots of attention.
When automakers debuted at the CES 2013, many people wondered or even sneered, saying, "Are motor vehicles electronic appliances?" There was a time when the North American International Auto Show in Detroit, Mich., held two weeks later than CES, received greater attention. Less than a decade has since passed, but the auto show all but shut down as most automakers moved to CES exhibition halls.
What do you think will happen to the spaceship, then? As I see it, there may come an era in a decade when buying and selling personal spacecraft will be like choosing a car.
Next to Sierra Space's exhibition hall, "8R," an autonomous tractor made by John Deere, the world's largest farming machine company with 158 years of history, also received the spotlight.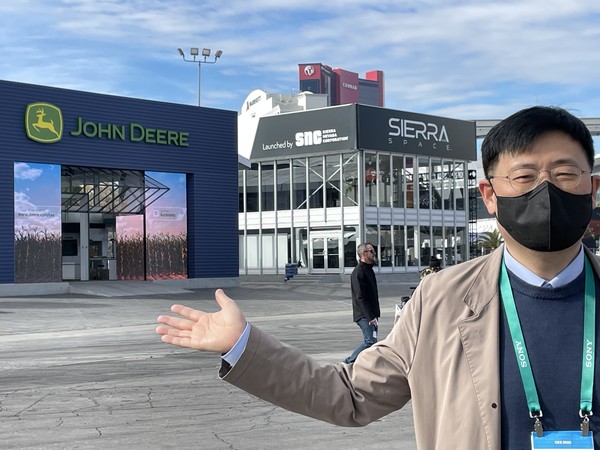 If you say agriculture is a primary industry that has long been out of date, come to CES and take a look!
Smart farms combined with the Internet of Things (IoT) and agricultural machines armed with AI and autonomous driving have continuously appeared at CES for years. That demonstrates agriculture does not necessarily remain a primary industry but can emerge as a cutting-edge sector if combined with high tech.
The same can be said about food tech.
As vegans increase worldwide, Impossible Food, a food company that launches alternative meat products, has become a regular at CES. In addition, UREKA PARK offers numerous products related to digital healthcare. So. if you search for a new business, you can get new items as much as you do the legwork.
In CES, you are highly likely to get as many original business items as the number of steps you take!
Fourth, experience the sharing economy.
Participating in CES is also about "eating well and living better." Eating, moving, and sleeping well are especially important during a business trip. In addition, the know-how I gained through frequent failures and successes while coming to Las Vegas remains valuable.
As CES 2022 opened when the Omicron variant spread rapidly throughout the U.S., it wasn't easy to imagine large-scale dining out and after-party. Solving these problems at once were food delivery services like UberEats, a product of the sharing economy, and the shared vehicles of Uber and Lyft.
In the past, I had to take a taxi to visit restaurants to eat. However, it has become possible to taste good restaurant food all over Las Vegas in my hotel room and remain safe, thanks to these services.
When I visited Las Vegas to watch CES seven or eight years ago, I decided to use Uber, unfamiliar to Koreans, and attempted it by putting an app and my credit card on my smartphone. The costs were only half of taxis. I have seldom used taxis there since.
At that time, taxi drivers were so resistant to new competitors even in the U.S. that we met on the street like a secret contact and went to the hotel. The following year, an official information board, "Uber Sharing Ride," appeared at the airport. Taxis and shared vehicles coexisted as taxis were parked at the hotel's main entrance or the airport exit, while shared vehicles were behind hotels or on the basement floor.
If you want to enjoy CES and Las Vegas, never fail to experience the sharing economy!
Fifth, corporate slogans are trends themselves.
"Beyond the Everyday"
"Welcome to Tomorrow!"
In the 1985 movie "Back to the Future 2," Marty and Dr. Brown come to the future society 30 years later, on Oct. 21, 2015, riding a time machine car. BMW's slogan at CES that year was "Someday is Today."
How nice!
BMW's slogan this year was "From Soul To Soul."
Cars across generations communicate and move with one another through artificial intelligence and even change their colors. The automaker's exhibition hall was heralding an era that changed everything we know. How far will the application of digital intelligence to automobiles evolve?
In CES, don't forget to pay attention to slogans!
Sixth, share experiences and loosen purse strings.
The CES site, which presents cutting-edge technology, is filled with crowds from more than 160 countries. What's important here is not the nation, race, religion, or thought but unique technology and business mind, or, in other words, competitiveness. Therefore, people who meet here easily become friends.
Especially Koreans, who come to CES regularly but cannot meet in Korea and communicate on social media, meet with one another very gladly in Las Vegas as if they were brothers or sisters.
As mentioned earlier, the CES site is vast and offers such diverse things that individuals can't carry out all the schedules for four days by themselves. Social media come as a great tool in this situation. If you search #CES2023 on Facebook or Twitter, it is overflowing with vivid and "hot" information and photos.
Aside from corporate people who want to buy or sell products, a wide variety of people, including analysts, engineers, fund managers, university professors, researchers, students, government officials, heads of public agencies, entertainers, sports officials, and celebrities, attend this industrial fair with various purposes.
Many things were not possible this year was due to Covid-19, but the landscape will likely change a lot in CES 2023. You must have heard that history takes place at night. After the day's exhibition, huge events occur all over Las Vegas -- at restaurants, bars, hotel lobbies, concert halls, and even on the streets. The real exchange takes place in the evening. You can also get valuable business information from instant meetings.
Make sure to hold a flash mob meeting when you come to CES! Close your mouth and open your wallet boldly! Business opportunities that money cannot buy will come to you.
Seventh, you can see as many things as you prepare in advance.
The CTA, which organizes the CES, changes its homepage banner to the speed of light upon the event's closure at the end of the last day to say, "See you on Jan.4-7,2023."
Preparations for next year start simultaneously with the end of this year's event. The same goes for individuals. Flights, hotel reservations, exhibition hall participation, and information and preparation on industrial trends happen all year round before the opening of CES 2023.
Would-be participants can begin with collecting related news stories and reports published by Korea Trade-Investment Promotion Agency (KOTRA), stock analysts to grasp the trend of the past 10 years or so.
The "seven hot tips for enjoying CES" -- that I have summed up in a very personal way and have never told anyone -- may not suit you.
However, I would like to recommend this one thing by all means.
Go and see CES as young as possible! Still, it can never be too late.
The writer is the director of KBR Meta-Health Lab. He is also a visiting professor at Hankuk University of Foreign Studies and a director at JP Law Firm. – Ed.


Related articles
Copyright © KBR Unauthorized reproduction, redistribution prohibited