Severance Hospital said on Friday that its researchers have developed a mesenchymal stem cell (MSC)/anticancer virus complex carrier that improves the ability to quickly and accurately target cancer cells 100 times better than conventional carriers.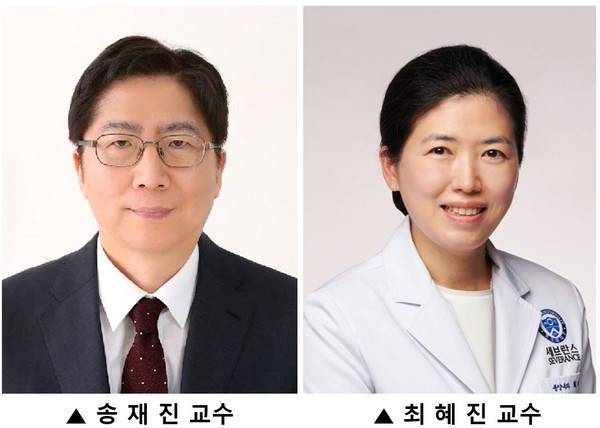 The oncolytic virus penetrates into cancer cells, proliferates, and destroys cancer cells. Subsequently, antigens generated from lysed cancer cells activate the immune system and kill cancer.
Although this method is recognized for its tumor killing and immune enhancement effects, talimogene laherparepvec (T-VEC) is the only anti-cancer virus treatment authorized by the U.S. Food and Drug Administration (FDA).
These anticancer virus treatments have limitations because the anticancer virus is blocked by neutralizing antibodies in the blood and adsorbed into the liver and lungs when administered by an injection. This results in a low tumor delivery rate between 0.001 to 0.01 percent.
Accordingly, the research team, led by Professors Song Jae-jin and Choi Hye-jin, created a carrier to overcome these limitations of anticancer virus treatments and confirmed the effect through mouse model experiments.
Three genes were injected into existing mesoderm stem cell carriers to block the possibility of the virus developing into tumors, while at the same time improving the ability to target only tumors while activating virus production.
The virus carrier together with a luminescent marker was injected, and subsequently, the amount of virus delivered was estimated to be more than 10 percent which arrived to the tumor site within six hours.
The amount of tumor delivery increased up to 10,000 times when the MSC/antivirus complex carrier was injected, compared to when the virus alone was injected. The tumor delivery in the new method also increased 100 times more, compared to conventional MSC. Additionally, few viruses were detected in other organs except for tumors, attesting to its targeting specificity.
"We have laid the foundation for the development of treatments that have improved the efficacy and safety of existing oncolytic viruses," said Professor Song. "We will do our best to develop clinical treatments through technology transfer."
Professor Choi added that they predict the developed anticancer virus carrier will have a great impact on the treatment of intractable cancers such as metastatic cancer.
The study was published in the journal of the American Society of Gene and Cell Therapy.
Related articles
Copyright © KBR Unauthorized reproduction, redistribution prohibited