"Patient-centeredness" is essential to develop digital healthcare, an expert pointed out Thursday. Moving away from the existing evaluation of commercial viability, it is necessary to look at it differently with an assessment focusing on the value that can be given to patients, the expert added.
Lee Sang-gyu, dean of the Graduate School of Public Health Yonsei University, said so in his speech, "Digital healthcare – from expectations to reality," at a seminar organized by the National IT Industry Promotion Agency as part of the K-HOSPITAL FAIR 2022-KHF 2022 at COEX in southern Seoul on Thursday.
"The relative value score that determines health insurance fees has three components: doctor's workload, resource input, and risk," Lee said. 'However, digital healthcare actually reduces the workload, resource inputs are much smaller than before, and the risk is not that high. If you look at digital healthcare with a tool called the relative value system, there is no way to let it come into the system."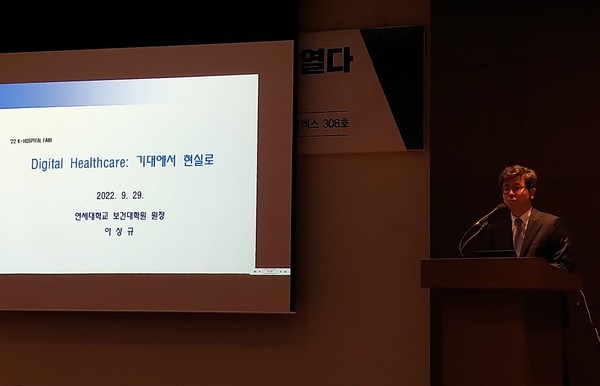 Lee explained that Germany and the Netherlands are completely changing their viewpoints and perspectives on digital healthcare by placing great importance on the value of patient-centeredness. In other words, the countries look at digital healthcare with a focus on how much value it can give to patients. Korea also has to take the approach of deciding health insurance fees or providing institutional support based on those values. Only then the nation's industrial ecosystem can also develop, Lee added.
For digital healthcare to enter the health insurance system, they need to be able to prove changes in the quality of healthcare, Lee emphasized. To do that, digital healthcare should not just demonstrate technological change but also accompany cultural changes, he added.
"Digital healthcare should be able to demonstrate the provision of the same or better healthcare than those available now from the aspect of quality," he said. "And if it can show that access to vulnerable people in healthcare area is improved, it will increase the acceptability of policymakers and insurers."
If the government controls costs, the quality of medical care will deteriorate. Of course, cost controls will make services cheaper while increasing accessibility, Lee said. If digital healthcare can help solve these problems by increasing accessibility and quality while lowering costs, Korea's digital healthcare ecosystem will be able to grow and develop a little more, he added.
"Digital treatments themselves are drugs or therapeutic devices made on the premise of changes in people's behavior," Lee said. "It is difficult to change human behavior. We have to think about the technical and institutional aspects, but I think we will also need to rack brains about cultural changes that accompany it."
Copyright © KBR Unauthorized reproduction, redistribution prohibited