"Global pharmaceutical companies are constantly finding new ways to develop innovative drugs despite the recent Covid-19 pandemic."
Yoshitake Maeda, the director of Bristol Myers Squibb (BMS)'s business development, search and evaluation for Japan and Asia, explained so during the Seoul International Biomedical Conference 2022 on Thursday.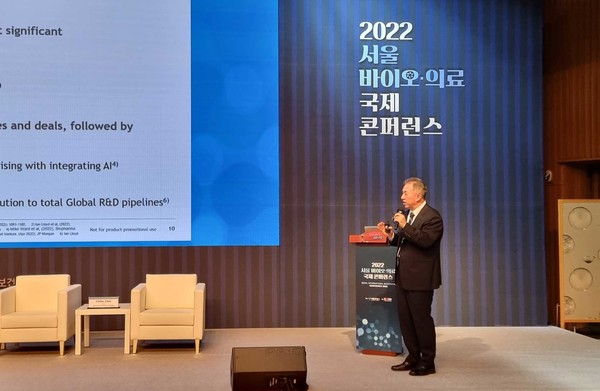 "Despite the Covid-19 pandemic, the number of clinical trials has increased significantly as interest in the biotechnology sector grew exponentially due to the virus," Maeda said. "This is a common phenomenon of global pharmaceutical companies not only in the U.S. but also in Europe."
The current trend among multinational pharmaceutical companies is to increase pipeline size by continuously developing new drugs, he added.
Maeda explained that global pharmaceutical companies have recently been spending more than half of their R&D expenses on open innovation as a solution to develop drugs faster.
Open innovation refers to a business model where a company collaborates with an external organization to derive new drug candidates.
Maeda stressed that new drug candidates discovered through open innovation could help generate revenue.
"Open innovation is also the core business strategy of BMS," Maeda said. "About 40 percent of BMS' total sales come from products introduced through open innovation."
BMS is currently working on more than 300 cooperative projects with external companies, and 60 percent of BMS's pipeline is procured through open innovation, Maeda added.
Maeda noted that some of the open innovation models have led to multiple blockbuster brands with over $18 million, including Eliquis (cardiovascular drug), Opdivo and Yervoy (cancer treatments).
He also stressed that it is important for companies that want to collaborate with big pharmas to pinpoint the global drug deal trend.
"I believe the current global drug deal trend is focused on seven major trends," Maeda said. "The seven are oncology, cell and gene therapy, digital health, discovery phase drugs, RNA technology, CRISPR, and integration of artificial intelligence."
Maeda noted that cancer-related pipelines account for the largest share of all technology transactions among the seven trends.
"The current global trend in drug development is to discover new drugs in the field of cancer," Maeda said. "30-40 percent of multinationals' pipeline is usually related to cancer."
This opens an oppotunity for smaller drugmakers to collaborate with multinationals but the competition will be fierce, he added.
Related articles
Copyright © KBR Unauthorized reproduction, redistribution prohibited