As Covid-19 has continued for years, many domestic medical institutions are dedicating themselves to responding to the pandemic. Myongji Hospital is also one of the institutions that have been actively responding to Covid-19 since the epidemic's outbreak.
One of the common problems facing medical institutions responding to Covid-19 is "medical staff's burnout." As the nation has experienced several waves of Covid-19 since 2020, medical workers and other employees at numerous medical facilities are complaining of physical and mental pain.
Therefore, the quarantine authorities are also implementing various policies, including mental health support, to solve the medical workers' burnout problem.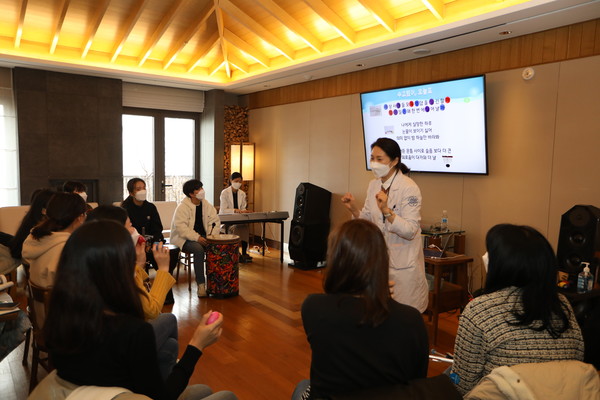 Myongji Hospital, which proactively and positively responded to the Covid-19 pandemic, predicted the situation ahead of the quarantine authorities.
So, the hospital has run its independent "resilience" program to diagnose employees' situations and seek various solutions from the beginning of the epidemic and plans to share its know-how in the "HiPex (Hospital Innovation and Patient Experience Conference) 2022" at the hospital from Oct. 28-28.
Ahead of the annual conference, Korea Biomedical Review met with Dr. Lee Su-young, a neuropsychiatry professor and head of the hospital's Patient Empathy Center who directs the resilience program, to get a peek into the know-how to be introduced at the HiPex2022.
Pursuing countermeasures, which are not rigid but fit the situation
The key to Myongji Hospital's resilience program is continuously monitoring the mental health of hospital workers in the course of responding to Covid-19 and finding appropriate solutions.
"Myongji Hospital, which experienced confusion during the attack of the Middle East Respiratory Syndrome (MERS), shared all situations with employees from the beginning of the Covid-19 pandemic. The hospital got a grip on the mental health of employees through a survey since the first Covid-19 patient was hospitalized," Lee said. "Three or four months later, the epidemic began in earnest."
Nurses in the Covid-19 ward had to live in the ward and eat in the ward, Lee recalled. "An intensive mental health survey of nurses around June 2020 showed one-third of them were in bad shape," she added.
Afterward, the hospital began the mental health management of nurses by providing one-on-one counseling if individual nurses need it. If they do not need 1:1 counseling but still required management, the hospital frequently checked their statuses through a nurse exclusively responsible for education.
"Through these steps, we could reduce nurses' anxiety to a considerable degree, although we could not completely erase their depressed feelings (from responding to Covid-19)," Professor Lee said.
Based on these experiences, the hospital launched a full-fledged resilience program named "Rest" with the advent of the third wave at the end of 2020, composed of meditation, music therapy, and the provision of good meals by inviting chefs.
By conducting an employee survey, the hospital concluded that it's not a grandiose way to comfort tired workers but to acknowledge their hard work and give them time to rest.
After that, Myongji Hospital has not stopped considering and concretizing programs suitable for the situation by, for instance, expanding and developing existing programs in 2021 and organizing the "Corona Blues Treatment Support Group" in the hospital to prepare for the prolongation of Covid-19.
Through this, it introduced various programs for employees tired of the protracted Covid-19 response, such as "healing book-creation" for all employees, support for hobbies, and hospital life vlog challenge, and saw the effect of recovering the mental health index of employees.
How can the resilience program be applied to other hospitals?
Myongji Hospital's management of its employees' mental health through the resilience program combines its positivity that applied the lessons from MERS to the field simultaneously with the advent of Covid-19 and its continuous pursuit of "improving organizational culture."
If so, are the accomplishments of Myongji Hospital difficult to be benchmarked and introduced by other hospitals? No, they're not.
"We understand only some large business groups provide psychological counseling services for employees' welfare in Korea. Hospitals also operate related programs but their atmospheres vary widely," Lee said. "Myongji Hospital's case is significant because it established an independent unit according to Chairman Lee Wang-jun's intention."
Lee noted that to introduce a program like Myongji Hospital's resilience, hospital managers' perception change is a prerequisite, emphasizing that these managers should think they take part of the hospital's revenue and use it for employees, not making profits from the program.
"It is not easy to obtain tangible results by investigating and improving the mental health of employees," Lee said. "We need to put in manpower and resources, but it's difficult to figure out how much it actually helped the staff."
Lee noted that even without Covid-19, job-seekers today consider work-life balance important when choosing a job, adding that supporting employees by creating various programs in the hospital would be a plus for hospitals' competitiveness.
"There are many things that the hospital can do on its own and have to try, but there is a limit to the hospital's own efforts," the neuropsychiatrist said. "After all, there should be support from the government or local governments (to resolve the burnout of medical staff) in terms of workforce and funds."
If one employee at a medical institution is burned out, it is likely to lead to medical accidents and poor medical quality, Lee pointed out.
"That explains why resilience programs for hospital staff are essential for the sake of improving medical service quality," Lee said in conclusion.
People can get more details on Myongji Hospital's resilience program at HiPex 2022 held online and offline at Myongji Hospital in Goyang, Gyeonggi Province, from Oct. 26-28.
Myongji Hospital will present its case through "Resilience for hospital employees in the Covid-19 era" introduced by Professor Lee at 9 a.m. on Oct. 28, and "Real-life application experience of the reliance program" to be shared by Lee Ji-youn, a clinical counselor.
Related articles
Copyright © KBR Unauthorized reproduction, redistribution prohibited