Celltrion said Wednesday that it obtained a domestic license from the Ministry of Food and Drug Safety (MFDS) for its Avastin biosimilar, Vegzelma (ingredient name: bevacizumab).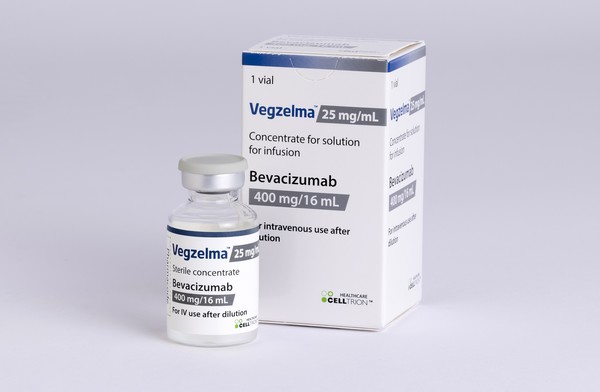 Consequently, Vegzelma will be able to sell all indications for the drug such as metastatic direct bowel cancer, non-small cell lung cancer, and epithelial ovarian cancer which have been approved for Avastin in Korea. Celltrion completed a global patent agreement with the original drug developer, Genentech, prior to obtaining permission for Vegzelma, and completed preliminary work for its launch.
The company is hastening its market advantage with successive acquisition of approval for Vegzelma in major markets.
Celltrion's Vegzelma won the nod from the U.S. FDA earlier this month, and European Commission (EC) in August. It was also recently authorized in the U.K. and Japan.
According to IQVIA, the global bevacizumab market was $6.435 billion last year. Korea is estimated to contribute to $91 million of this market, which is approximately 1.4 percent. Comparatively, the U.S. and the EU are contributing with the largest markets accounting for $2.6 billion and $1.6 billion, respectively.
Meanwhile, Avastin's intravenous 25 mg/mL solution retails for about $849 for a supply of 4 milliliters. As license approval was only recently obtained, the retail price has not yet been set but a Celltrion official promised to offer it at an "affordable" price.
Aside from the expected decrease in price tag, both the reference drug and biosimilar was proven to be clinically similar from one year follow-up results of a phase 3 study presented at the recent European Society for Medical Oncology (ESMO) earlier this month with regards to the response duration (RD), time to progression (TTP), progression-free survival (PFS), overall survival (OS), safety and immunogenicity.
However, when treating patients, the individual comparison of these clinical results will likely influence the doctor's decision in choosing between the reference or biosimilar drug as they are similar but not identical. For example, doctors may opt for the reference drug if he believes the risks of switching drugs mid-treatment might be too high considering the patient's condition.
"We are sequentially expanding the global major market licenses by obtaining the domestic item license for Vegzelma," said a Celltrion official, "With this Vegzelma item license, we have secured the third anti-cancer antibody biosimilar following the existing domestic blood cancer drug, Truxima, and the breast cancer drug, Herzuma, thus establishing a strong portfolio in the anti-cancer antibody therapeutics market."
Related articles
Copyright © KBR Unauthorized reproduction, redistribution prohibited