A recent study said that the risk of developing shingles increases among adults 50 and older with the experience of infection by Covid-19.
A research team led by Dr. Amit Bhavsar, director of clinical research and development at GSK, released its research results on the incidence rate of shingles after the diagnosis of Covid-19 in "Open Forum Infectious Diseases," an international academic journal, in the first half-year.
The researchers compared and analyzed the data of 393,677 adults 50 and older diagnosed with Covid-19 in 2020 and with those of 1,577,346 adults not diagnosed with Covid-19.
As a result, adults 50 and older infected by Covid-19 were 15 percent more likely to get shingles than adults 50 and older not infected. Notably, those hospitalized for severe Covid-19 showed a risk of developing shingles 21 percent higher than that of non-infected people.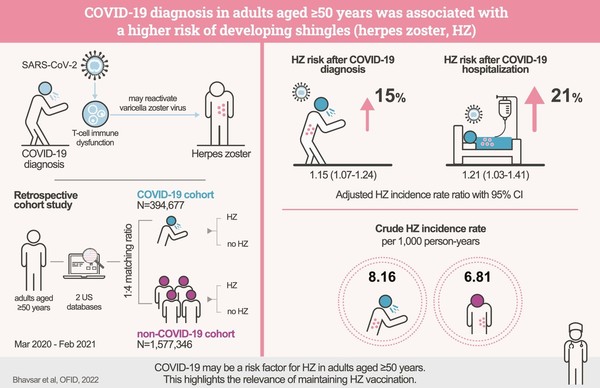 The risk of shingles continued for six months after the diagnosis of Covid-19. A statistically significant adjusted incidence rate ratio (aIRR) was observed during the period of 1-30 days and 91-183 days after the diagnosis of Covid-19.
"Covid-19 infection in adults 50 and older can induce the reactivation of varicella-zoster virus (VZV)," the research team said, emphasizing the need for shingles vaccination recommended for middle-aged people 50 and older.
"The study is meaningful, confirming the higher incidence rate of shingles among adults 50 and older with a record of Covid-19 infection," said Professor Chu Eun-ju of the Infectious Disease Department at Bucheon Hospital affiliated with Sun Chun Hyang University.
Noting that shingles occur when the immune system is compromised and causes extreme pain and neuralgia, Professor Chu said, "In this era of Covid-19, it is important for adults 50 and older to prevent shingles through vaccination while managing their immunity as an option for healthy retirement for middle-aged people."
Shingles is a disease that occurs when VZV, which has been dormant in the body after suffering from chickenpox in the past, is reactivated due to decreased immunity because of aging or disease. Rashes, pain, and sensory abnormalities can occur, possibly causing post-herpetic neuralgia (PHN) that continues even after the rash disappears
According to domestic studies, VZV infection rates increase with age ranging from 98.0 percent to 100 percent in age over 50, indicating that almost all people have the possibility of getting shingles.
In particular, shingles have a high incidence among older adults 50 and older whose immunity decreases with age. According to Health Insurance Review and Assessment Service, people in their 50s accounted for 23.5 percent of shingles patients in 2020, followed by 60s with 22.1 percent, 70s with 12.2 percent, and 80s with 5.3 percent. Adults 50 and older represented about 63 percent of the total shingles patients.
Currently, two shingles vaccines can be inoculated in Korea – Zostavax and Shingrix. The biggest difference between the two is that Zostavax is a live attenuated vaccine and Shingrix is a killed, inactivated vaccine. Therefore, in the case of immunocompromised people, vaccination with Zostavax is prohibited.
For the same reason, the U.S. Centers for Disease Control and Prevention also recommends adults 50 and older to vaccinate with Shingrix over Zostavax. It also recommends people vaccinated with Zostavax take additional shots with Shingrix if their immunity weakens.
Shingrix won approval from the Ministry of Food and Drug Safety in September last year to prevent shingles in "adults 50 and older or people 18 and older with high risks or expected high risks of shingles due to weakened or inhibited immunity resulting from diseases and their treatment."
Shingrix proved shingles prevention effects and superior safety through the phase 3 clinical trials of ZOE-50 and ZOE-70 studies. In a ZOE-50 study of adults over 50, it showed a 97.2 percent of prevention effect over an average follow-up period of 3.2 years.
Also, in the ZOE-70 study targeting at patients over 70 and the analysis of over-70 participants in the ZOE-50 study, it showed 91.3 percent prevention effects in the 70s, and 91.4 percent in 80s and older, demonstrating more than 90 percent of prevention effects in all age groups over 50.
Besides, in the long-term follow-up observations of the two studies, Shingrix confirmed 90.9 percent of the prevention effect continues for 7.1 years after initial vaccination, while maintaining stable immune response to immunogenicity and cell-mediated immunity, as shown by the antibody concentration remaining at least six times higher than the pre-vaccination level up to eight years after vaccination.
Copyright © KBR Unauthorized reproduction, redistribution prohibited