Myongji Hospital said that it has partnered with Why Dots to co-develop the latter's dementia specialized robot, PIO, and produce cognitive intervention programs.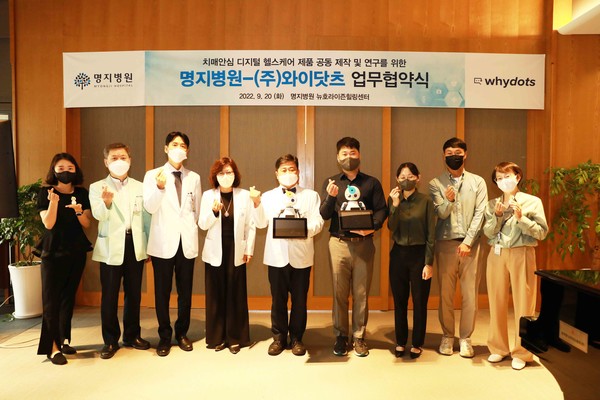 PIO is a robot parrot that stimulates attachment and emotion in dementia patients through the process of taking care of the robot. According to Why Dots, PIO can help relieve depression, emotional stability, and cognitive ability in early-stage dementia patients.
Why Dots stressed that the camera on the robot recognizes the user's face and expression and interacts with the patient.
With this contract, Myongji Hospital will develop dementia care technologies based on the experience and clinical data accumulated while operating Centenarian's Good Memory School and cognitive intervention content to improve cognitive ability.
Myongji Hospital opened the Centenarian's Good Memory School as part of a public health care project in 2013 and has been providing professional and holistic treatment to dementia patients.
Myongji Hospital said PIO provided emotional state and cognitive ability improvement after giving the robot to about 20 early dementia patients attending Centenarian's Good Memory School from April to August.
"As the number of dementia patients is expected to increase due to the rapid population aging, appropriate and effective treatment and management are urgently needed," Myongji Hospital President Kim Jin-goo said. "Myongji Hospital will continue to develop the dementia care AI robot technology with the know-how and expertise it had acquired while operating the Centenarian's Good Memory School."
Why Dots CEO Yoon Young-seop also said, "Through collaboration with the medical staff of Myongji Hospital, we will create a dementia care service that can help patients."
Related articles
Copyright © KBR Unauthorized reproduction, redistribution prohibited