CEO Kim vows to strive to make staff members have pride as founders
A year has passed since Organon & Co. spun off from MSD, vowing to be a company specializing in the field of female healthcare.
Over the past year, Organon has made positive efforts to promote female health. For instance, it acquired companies producing postpartum solutions to treat postpartum hysterectomy and endometriosis and signed a license contract with a company producing vaginitis caused by premature birth or bacteria.
Organon Korea has also firmed up the foundation to awaken social awareness about women's health and spread it while meeting Korean women's unmet medical demands since its founding in June last year.
On this occasion, Korea Biomedical Review recently met with Kim So-eun, who has strived to ensure internal stability since she was named the first CEO of Organon Korea to hear about the company's accomplishments in the past year and its future plans.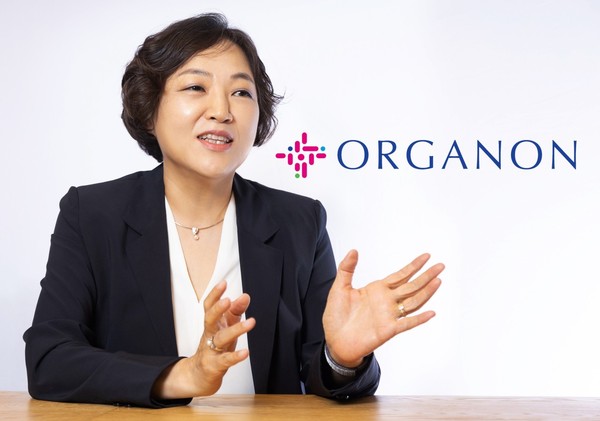 Question: It's been a year since Organon Korea was launched.
Answer: There still are many unmet demands in the area of female health. Taking note of this, Organon made a meaningful start with a clear vision of "women's healthier every day." Over the past year, it made various efforts, great or small, to build a foundation to materialize the vision of women's health. It attained organizational stability, as the company won investors' confidence by making a stable start in terms of business. Organon Korea also expanded its products' influence, recording a 4-percent sales growth in the first year of its spin-off. I sincerely thank the executives and employees, partners, and healthcare workers who encouraged our company.
Q: What were the major activities you focused on since the company's founding?
A: Since its beginning, Organon & Co. made and shared "Voice of Wall," a report that researched female healthcare demands and priorities based on the opinions of 81 female healthcare leaders from 33 countries. As a result, it drew four key subjects – self-care, mental healthcare, the need for maternal care, and non-infectious disease risks and the need for prevention.
Organon Korea also has compiled basic facts, including contraception, infertility, pregnancy and childbirth, menopause, and female health amid the Covid-19 pandemic, based on surveys and the analyses of numerous online discourses related to female health. Simultaneously, the company brought various difficulties and demands related to women's health to the surface and communicated, raising its voice to increase interest in and the necessity for this. Besides, it conducted various campaigns to stress the need for women to know better about their health and take better care of themselves in basic matters, such as contraception and menopause. For example, it awakened social awareness of unplanned pregnancy, spread information to increase the quality of life for menopausal women, and the "challenge" to expand healthy habits on the occasion of International Women's Day.
We also expanded our external extension in business terms. Global Organon acquired companies that produce solutions to treat postpartum bleeding and endometriosis and signed license contracts with businesses that make treatments for premature obstetric labor causing premature birth, and solutions treating bacterial vaginitis, breast cancer, and contraception solutions. To sum up, Organon concluded six big contracts, expanding various pipelines befitting its corporate visions.
Organon Korea is also grasping priority areas needed for the domestic market and trying hard to introduce and launch products Korean consumers need. Besides, the company will not limit itself to reproductive diseases but shed new light on female healthcare by highlighting the special nature of the lifecycle of women due to gender differences and increasing the value of existing treatment for chronic diseases
Q: It is interesting to hear you would re-highlight the value of existing chronic disease items due to gender differences.
A: Organon Korea has various products in the chronic disease area, and their share is also large in business terms. Among them are the products that can be classified as related, directly and indirectly, to women's health, including cardiovascular, pulmonary, and musculoskeletal systems. Therefore, we try to know what unmet needs there are from the viewpoint of female health.
For example, the hearts of men and women are different in function. Also, dyslipidemia and diabetes are more powerful risk factors for women. However, studies to prevent, diagnose and treat them have not been made sufficiently yet. While focusing on existing chronic diseases, Organon Korea has held female patient-oriented symposiums with various medical professionals to discover their relationship to women's health and how to contribute to it and could confirm opportunities related to female health in chronic diseases, too. Consequently, we are sounding the possibility of expanding the indications of existing chronic disease treatments by securing additional clinical grounds and expanding their implications.
Q: What was most difficult in the past year?
A: In the initial phase of our launch, employees found it most difficult to meet various interested people, including health and medical experts, with a rather unfamiliar name of "Organon," Moreover, the heightened Covid-19 crisis made it even harder for them to meet their counterparts in partner companies and other persons concerned.
So, Organon Korea tried to make the best of digital channels to communicate with health and medical experts. A case in point is "Organon Connect," a portal site exclusively for the medical community. Among all subsidiaries of Organon, Organon Korea was the first to launch a similar site upon its founding and held continuous workshops through this site. Our executives and employees also had few opportunities to meet one another because they worked from home. Therefore, the company tried to make the digital channel infiltrate deeply into internal solidarity and work communication. As soon as the company began its business, it conducted most of the internal communication and work through video conferences, online town hall meetings, and podcasts, quick "onlinizing" everyday work.
Organon Korea made great efforts for the stable supply of its products even amid the Covid-19 crisis and spinoff from the parent company. Organon is supplying 69 product lines to about 140 countries. Although the company has several manufacturing plants, it experienced difficulties supplying several products to about 140 countries. Accordingly, Organon Korea talked closely and collaborated diversely with Global Organon for the sake of patients' health.
For example, Organon Korea could stably supply its menopausal hormone treatment, Livial Tab., to the domestic market although many female hormone formulations went out of stock last year. We are proud of creating an environment in which physicians can prescribe drugs without concerns about possible supply stoppage.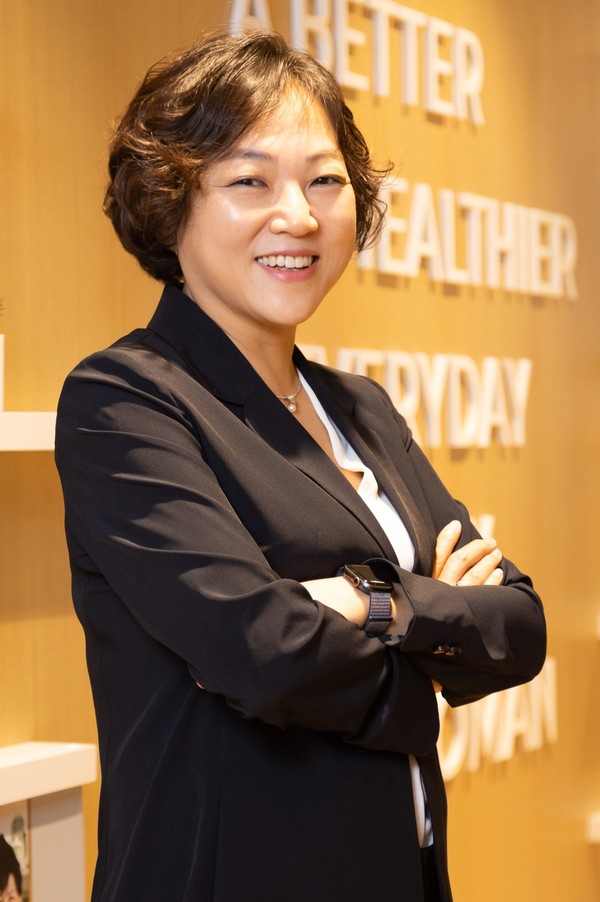 Q: The controversy over impure elements in losartan products must have been a big crisis for the startup company.
A: When the issue broke out, the company regarded it as the biggest crisis since its founding and coped with it as such.
As a company that has original pharmaceutical products, Organon Korea coped with the industry's drug impurities issue swiftly and responsibly to help dissolve the worries of regulators, prescribers, dispensers, and patients.
At first, we experienced difficulties swiftly submitting data at the time as we had yet to secure test methods. However, we did all we could for physicians and pharmacists, thinking from the standpoint of patients. As a result of actively cooperating with the headquarter office, Organon Korea revealed the results of non-detection of impurities within the deadline. It also disclosed specific actions it took to replace some drug materials, communicating with experts and patients transparently.
In the impurities issue concerning losartan and montelukast involving Organon Korea, we detected no impurities in our products. The non-detection result means our products' qualities were so high that they were beyond comparison with products getting impurities below the standard or salable impurity levels.
Organon's products are original formulations distinctly differentiating from others in materials and manufacturing processes. We used the occasion as a good opportunity to enhance consumers' confidence and demonstrate our products' differentiating points in the course of communication, product supply, and coping with the crisis. Also, it was a good opportunity to have confidence in our products' quality by proving there can be no impurities in our products due to their manufacturing process.
Q: As the first CEO, you will have a lot of concerns about organizational management. What are the differences from MSD?
A: Organon is a company very different from MSD in managerial aspects, including organizational size and portfolio. The smaller a company is, the more important its organizational efficiency. Accordingly, I tried to emphasize in the early days of Organon Korea that "Organon must work in Organon's own way."
Organon Korea calls its executives and employees "founders." Organon has the vision of "Toward a better and healthier every day for every woman," and the mission of "Deliver impactful medicines and solutions for a healthier every day." We made great efforts to have executives and employees share a sense of homogeneity and faith as founders based on our vision and mission to make our future paths. That also explains why I tried hard to stress the importance of corporate culture from its launch.
Organon has six corporate values – Be real, Own it, Rise together, Keep moving, Bring your fire, We all belong. You might think they are not much different from other companies. However, Organon Korea's corporate values set them apart from others by taking their root as actual corporate culture.
From the moment of deciding on the spinoff, we held several workshops to discuss behaviors and culture that could materialize Organon's values. Executives and employees proposed many ideas and are implementing them by turning a considerable part into action.
Q: What are the major tasks facing Organon Korea in its second year and how will you tackle them?
A: I think it is an important task to find how it could contribute to Korean society and accumulate its influence based on Organon's global ESG guidelines in addition to continuing efforts for female health business. I will try to create a foundation for dreaming a larger dream for realizing our vision of women's health by growing together with executives and employees armed with confidence in Organon's vision and current strength.
Organon regards Korea as a very important market, paying attention to the Korean market and Organon Korea beyond mere figures. It is also highly evaluating Organon Korea's taking the lead in creating a better corporate system and culture by quickly grasping things to improve. I think these things are important in the course of finding new paths since the spinoff and am happy to receive high expectations and good assessment. Based on this, I will strive hard to receive continuous support from Organon for the sustainable growth of Organon Korea.
Related articles
Copyright © KBR Unauthorized reproduction, redistribution prohibited