Myongji Hospital said it started securing medical competitiveness in the post-Covid-19 era by installing new medical equipment worth about 30 billion won ($21.6 million).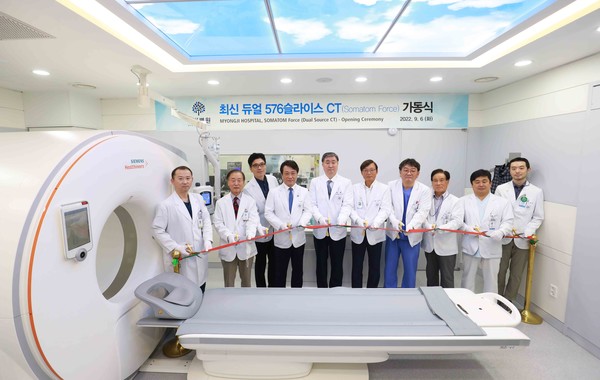 Starting with the Somatom Force, a dual 576 slice computed tomography (CT), on Tuesday, the hospital plans to introduce various medical devices, including Da Vinci XI, 3.0T VIDA XT magnetic resonance imaging device, angiograph, CT, and VitalBeam linear accelerator until the end of this year.
Myongji Hospital held the CT Somatome Force operation ceremony in the radiology department's CT room on Tuesday.
Somatom Force can detect microscopic lesions as small as 0.3 mm with minimal radiation and a small amount of contrast agent, and can perform cardiac imaging at a high speed of 74 cm per second.
Such advantages make it possible to accurately examine emergency patients, children, and the elderly who have difficulty holding their breath for a long time.
"By introducing CT specialized for precise reading of the heart and brain, it is now possible to obtain clear and three-dimensional images compared to existing equipment," Professor Im Jung-gi of the Department of Radiology. "The introduction of timely equipment in line with the full-fledged operation of the heart center will play a major role in advancing the hospital into a leading medical institution for heart surgery, including heart transplantation."
The hospital also stressed that it plans to introduce Da Vinci XI, which is a fourth-generation robotic surgical device that secures up to 10 times the field of view with high-definition 3D images and mimics sophisticated hand movements during surgery by inserting a robotic instrument through a 1 cm hole.
Other upcoming devices include the 3.0T VIDA XT, which boasts an imaging speed that is 30-40 percent faster than previous MRIs and can be used on patients with claustrophobia. The new radiation cancer treatment device VitalBeam is a piece of state-of-the-art equipment that precisely irradiates high-energy radiation to remove only cancer cells.
The hospital stressed that the large-scale expansion of medical equipment is drawing more attention as it comes amid difficulties in the business environment among Korean hospitals as they have not normally been operating for nearly three years due to the Covid-19 outbreak.
Also, as Myongji Hospital has been working hard to recruit named physicians from each field to improve medical competitiveness, the hospital expects that there will be a great synergy effect in improving the quality of medical care in conjunction with the introduction of this advanced medical equipment.
"Myongji Hospital is leading the recruitment of excellent medical staff and the introduction of large-scale medical equipment in preparation for the post-Covid-19 era," Myongji Hospital Chairman Lee Wang-jun said. "I expect that these efforts will lead to a drastic improvement in the quality of medical care."
Related articles
Copyright © KBR Unauthorized reproduction, redistribution prohibited