Breast cancer patients and their families increasingly demand the government's quick approval for Enhertu (ingredient: trastuzumab deruxtecan), a new breast cancer treatment.
On the online petition site of the National Assembly on Tuesday, a petitioner urged the government to approve Enhertu. It is the second petition after a breast cancer patient in her 70s wrote on the site demanding Enhertu permit in June, since the Yoon Suk-yeol government's inauguration in May.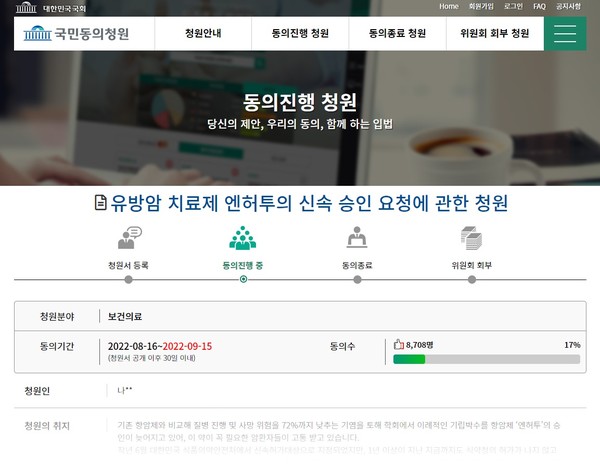 Enhertu is a next-generation antibody-drug conjugate (ADC) co-developed by Daiichi Sankyo and AstraZeneca. The treatment is drawing much attention after showing remarkable therapeutic improvements in breast and gastric cancer.
In HER2-positive breast cancer, which accounts for 15 percent of all breast cancer, Enhertu lowered the risk of disease progression or death by 72 percent, compared with the first-generation ADC, Kadcyla (trastuzumab emtansine).
In recent trials, Enhertu reduced the risk of disease progression or death by 50 percent, compared with conventional chemotherapy, in HER2-low metastatic breast cancer that accounts for 50-55 percent of all breast cancer.
Based on these effects, Enhertu obtained conditional approval as a third-line or higher-stage treatment for unresectable or metastatic HER2-positive breast cancer in the U.S. in December 2019.
It also won the nod as a second-line or higher-stage treatment for unresectable or metastatic HER2-positive breast cancer, based on phase 3 DESTINY-Breast03 trial results.
Daiichi Sankyo and AstraZeneca recently sought Enhertu's expanded indication to treat HER2-low breast cancer in the U.S. on July 25.
In less than two weeks, the FDA approved the application on Aug. 6.
In contrast, the Ministry of Food and Drug Safety has yet to approve its use even as a third-line or higher-stage treatment for HER2-positive breast cancer, which had been authorized in the U.S. three years ago.
The latest petitioner, surnamed Na, explained that her mother had been fighting breast cancer for two years and a half since the diagnosis in March 2020.
Only Enhertu is the last treatment her mother could try, she said.
She could purchase Enhertu through the Korea Orphan & Essential Drug Center (KODC) by applying for self-medication, but it is very costly. Also, the petitioner said she was worried when she heard from the doctor that unchecked management of the drug quality could weaken the efficacy.
"Our family wants to spend more time with my mother, even if it means we must sell our house. It doesn't matter if Enhertu is not reimbursable. We want to try the drug in its complete status," Na told Korea Biomedical Review.
Enhertu is a biological product requiring strict temperature control in transportation and storage. Therefore, it should be refrigerated in the original box at 2-8 degrees Celsius without exposure to light, and it should not be frozen.
A biological product authorized by the MFDS goes through rigorous management in the cold chain.
However, observers said Enhertu imported by the KODC might be vulnerable to poor delivery and storage management.
The KODC, not the MFDS, monitors the storage and delivery of imported drugs for self-medication.
The MFDS emphasized that drugs for self-medication, imported through the KODC, are safely controlled in the cold chain without any problem.
Industry sources said the regulator's Enhertu review recently resumed after suspending it due to delayed submission of supplementary data from pharmaceutical companies.
They said expectations for Enhertu approval within this year were growing.
The drugmakers have not mentioned approval, but many Korean oncologists said Daiichi Sankyo completed data submission and was waiting for the results.
An official at the MFDS said a drug review required assessment in many areas, such as quality, safety and efficacy, and GMP.
"Only some data, not all, has been submitted," he said.
Related articles
Copyright © KBR Unauthorized reproduction, redistribution prohibited