Physicians are widely prescribing the antidiabetic drug metformin, antiparasitic drug ivermectin, and antidepressant fluvoxamine despite their insufficient evidence for Covid-19 treatment.
However, in a randomized, placebo-controlled trial, U.S. researchers found that none of the three medicines could prevent Covid-19 from progressing to severe disease.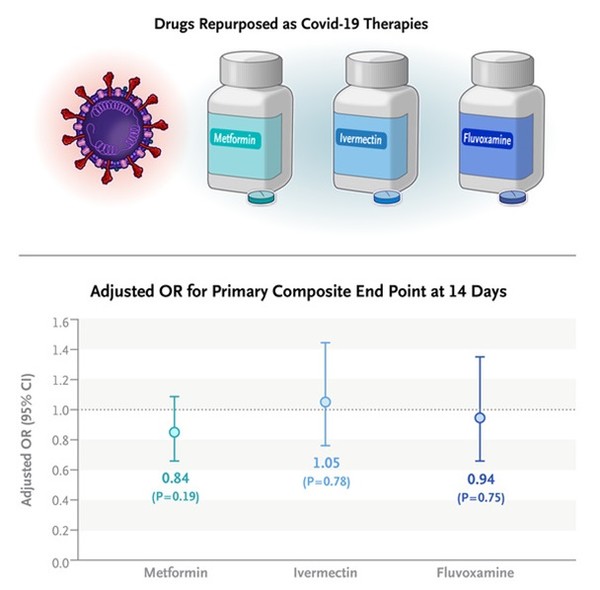 The research team, led by Professor Carolyn T. Bramante at the Division of General Internal Medicine and Pediatrics at the University of Minnesota, published their trial results in the New England Journal of Medicine (NEJM) on Thursday. The study is titled "Randomized Trial of Metformin, Ivermectin, and Fluvoxamine for Covid-19."
The research team used a "2-by-3 factorial design" to randomly assign 1,431 high-risk Covid-19 patients who were overweight or obese.
The metformin and metformin placebo groups had 663 and 660 patients, respectively. The ivermectin and ivermectin placebo groups had 410 and 398 patients, and the fluvoxamine and fluvoxamine placebo groups had 334 and 327 patients.
The primary endpoint was hypoxemia, an emergency department visit, hospitalization, or death associated with Covid-19.
All analyses used controls who had undergone concurrent randomization and were adjusted for Covid-19 vaccination and receipt of other trial medications.
The results showed that the adjusted odds ratio for a primary event was 0.84 with metformin, 1.05 with ivermectin, and 0.94 with fluvoxamine. None of the three treatments could prevent high-risk Covid-19 patients from progressing to severe disease.
In prespecified secondary analyses, the adjusted odds ratio for emergency department visits, hospitalization, or death was 0.58 with metformin.
Even though metformin showed a potential benefit to prevent events more severe than the primary endpoint, it was a prespecified secondary outcome and could not be considered definitive pending the results of other trials, the research team said.
Salim S. Abdool Karim, a professor of clinical epidemiology at Columbia University, said in an editorial in the NEJM that the latest study showed the inefficacy of the drugs recklessly prescribed in the pandemic era.
Karim noted that during the Covid-19 pandemic, some of the early treatment trials were rushed, leading to poorly conducted studies with too few patients.
"As a result, initial evidence of the efficacy of some Covid-19 treatments could not be replicated, but these drugs were already in widespread use by then, and some clinicians have been reluctant to change to proven efficacious alternatives," he said.
Ivermectin and fluvoxamine, in particular, were still widely prescribed, even though accumulating evidence indicated that both drugs were not effective for Covid-19.
"Prescribing non-efficacious treatments is not a neutral or harmless option," he emphasized.
He added that such practice denies patients the appropriate treatment but causes side effects and drug shortages for patients who need the medications for other conditions.
Thus, he said it was important to have reliable evidence of non-efficacy and publish study outcomes in journals.
"It is also important that multiple rigorous randomized, controlled trials be performed to provide unequivocal evidence on the efficacy of new treatments, as the Covid-19 experience has shown."
Copyright © KBR Unauthorized reproduction, redistribution prohibited