The government approved Novavax's Covid-19 vaccine, manufactured by SK Bioscience, for adolescents aged 12 or older.
On Friday, the Ministry of Food and Drug Safety allowed adolescents aged 12 or more to receive Novavax's Nuvaxovid Prefilled Syringe, lowering the eligible age from 18 or more.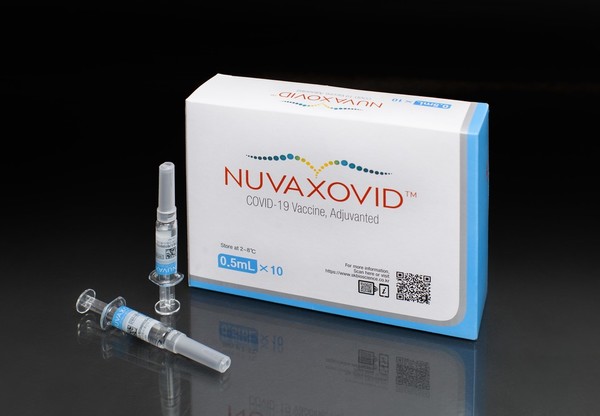 The vaccination for teens aged 12-17 requires two 0.5 ml doses administered three weeks apart, the same for those aged 18 or older.
After reviewing data from a clinical trial on adolescents aged 12-17, the MFDS concluded that the age group could receive Novavax's vaccine.
Adverse events (AEs) reported from teens aged 12-17 were similar to those from people aged 18 or more, the MFDS said.
The most common AEs after Nuvaxovid vaccination in teens 12-17 were injection site pain, headache, myalgia, fatigue, malaise, nausea, and arthralgia. The symptoms were mostly mild to moderate and disappeared within several days after vaccination.
Nuvaxovid demonstrated 79.5 percent preventive effectiveness against the virus, as six people in the vaccine group and 12 people in the placebo group contracted Covid-19 seven days after the second dose among 1,799 people (1,205 in the vaccine group, 594 in the placebo group), the MFDS said.
The ministry said it would do its best to keep providing safe and effective vaccines to the Korean people.
Novavax and SK Bioscience welcomed the ministry's approval.
"We are pleased to collaborate with SK bioscience to offer our vaccine to adolescents aged 12 through 17 in South Korea," said Stanley C. Erck, CEO of Novavax. "Today's approval in South Korea is important in ensuring broad global access to a protein-based vaccine option."
Ahn Jae-yong, CEO of SK Bioscience, said the company was responding to the pandemic by expanding the use of Nuvaxovid for adolescents and as a booster.
"With CDMO manufacturing of global COVID-19 vaccines, including Nuvaxovid, and our homegrown vaccine SKYCovione that fights BA.1 as a booster, we will do our best to promote human health in the world," he said.
Novavax plans to supply a novel vaccine to fight Covid-19 variants to brace for a possible resurgence of Covid-19 this autumn.
Last month, the company signed a CMO deal with SK Bioscience to produce Novavax's novel Covid-19 vaccine materials and prefilled syringes.
Copyright © KBR Unauthorized reproduction, redistribution prohibited