Biosensor company i-SENS signed a memorandum of understanding with Meraki Place, a digital healthcare provider, to develop a chronic disease management service on Wednesday.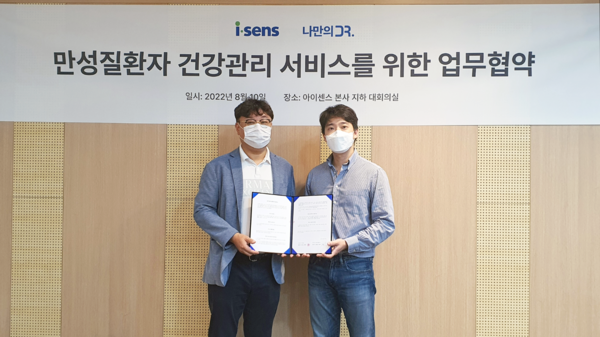 Meraki Place runs a non-face-to-face medical treatment platform, My Doctor, and provides a one-stop service from treatment and prescription, to drug delivery. Patients using the app can select a doctor according to their symptoms, receive non-face-to-face medical treatment and prescription, and even get free drug delivery by choosing a pharmacy.
Under the MOU, the two companies plan to connect i-SENS' blood-sugar measurement results to the My Doctor health management service for patients to record and utilize their health data. Accordingly, patients with diabetes can record their blood glucose anytime and provide it to medical professionals for non-face-to-face treatment, increasing convenience and treatment efficiency.
"We had pushed for collaborating with Meraki Place to strengthen competency in the healthcare market and create synergy by connecting the two companies' expertise," a company official said. "We aim to contribute to changing and innovating the digital healthcare ecosystem for a healthier life."
Copyright © KBR Unauthorized reproduction, redistribution prohibited