The medical staff of Korea University Ansan Hospital (KUAH) provided medical assistance to ethnic Koreans who had evacuated to their fatherland because of Russia's war in Ukraine.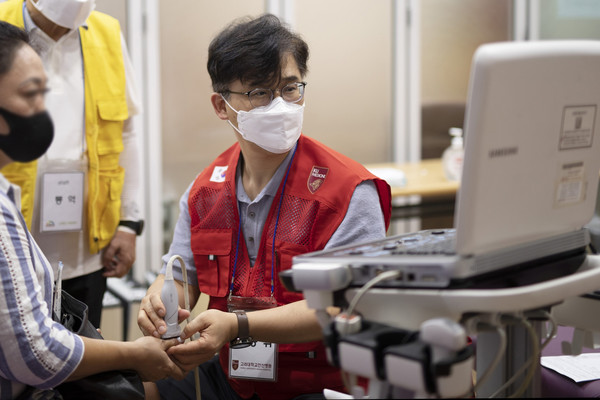 About 30 medical workers offered medical services at the foreign residents' support center in Ansan, Gyeonggi Province, from 10 a.m. last Saturday. They conducted various medical tests by taking blood and urine samples and checking blood pressure.
Some volunteers from a group that helps Korean-Ukrainians called the Koryo people provided translation services, helping communication between medical staff and patients. According to KUAH, most of the Koryo people are refugees of the Ukraine war in desperate need of professional medical assistance with various symptoms of chronic illnesses.
After diagnosis, patients were provided with in-depth medical care from KUAH medical professionals, including Department of Rehabilitation Medicine Professor Kim Dong-hwee, Department of Pulmonology Professor Lee Seung-heon, Department of Endocrinology Professor Seo Ji-a, and Department of Cardiothoracic Surgery Professor Shin Hong-ju, according to the hospital.
Korea University Medicine's CSR team also added its support by bringing a mobile clinic equipped with CT and X-ray devices.
"Preliminary diagnoses of the Koryo people showed many of them suffered from musculoskeletal pain and chronic diseases, such as respiratory disease, hypertension, and diabetes," Professor Kim said. Therefore, we have come to form a service group of four medical professionals to provide practical help to the Koryo compatriots."
Kim added that he hoped the medical service would help compatriots suffering from the Ukraine war, adding that they conducted more than 300 medical tests on 42 Koryo people during the day.
KUAH said it plans to provide additional medical aid for those in need through outpatient services.
Copyright © KBR Unauthorized reproduction, redistribution prohibited