EOFlow said Thursday that A. Menarini Diagnostics would officially launch its tubeless, wearable, and disposable insulin pump in Europe under the diabetes care brand of "GlucoMen Day PUMP" on Sept. 1.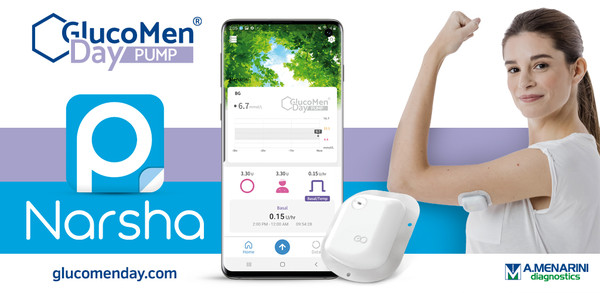 EOPatch is one of only two fully disposable, wearable insulin pump solutions commercially available in the world. In 2019, EOFlow signed a five-year exclusive distribution agreement with Menarini, specializing in diabetes care and laboratory products. The distribution agreement covers 17 countries worth 150 billion won ($115 million).
Since obtaining the CE mark from the EU in May 2021, the two companies have registered the product in 10 European countries and participated in tenders.
Users can control the EOPatch insulin management system via a smartphone app, Narsha, to continuously deliver insulin for blood glucose control, providing an alternative to traditional insulin delivery methods. With its simple, wearable design, the patch provides up to 84 hours of continuous insulin delivery and requires replacement only twice a week, improving user compliance.
The Narsha app has eliminated the need to carry a dedicated controller as it can control the insulin delivery from the app. It also features a cloud-based diabetes data management program, EOBridge, and can communicate with certain blood glucose meters (BGM) via Bluetooth, allowing blood glucose management in one app, according to the company.
"We have worked long and hard with our partner for our first global debut." EOFlow CEO Jesse Kim said. "As the global needs for better wearable digital healthcare products and services are rapidly growing, we will focus on serving the market with more advanced, convenient, and affordable solutions."
Alessandro Borghesi, Global Marketing Director of Menarini, said, "We are thrilled to launch GlucoMen Day PUMP, the market's long-awaited wearable insulin pump. There is a great need for wearable insulin pumps in Europe, and we will strive to provide excellent user experiences."
Borgessi added that they plan to launch the product in 17 countries by 2023, starting with the market launch in 10 countries this year, including Italy, the U.K., Spain, Germany, and France.
"We are confident that customers will be satisfied with the GlucoMen Day PUMP," he said.
Copyright © KBR Unauthorized reproduction, redistribution prohibited