Some people and organizations are better at turning crises into opportunities than others. Myongji Hospital in Goyang, a bed town north of Seoul, is one of them, cementing its position amid the Covid-19 pandemic with swift and well-prepared responses to the public health crisis.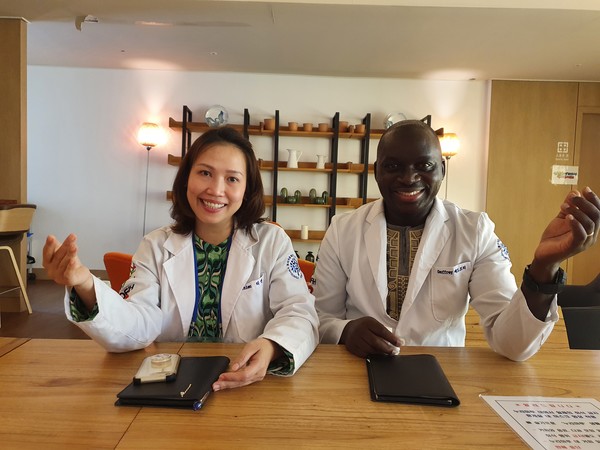 It is now offering the Dr. Lee Jong-Wook Fellowship Program, inviting health and medical personnel from developing countries to help strengthen regional and global healthcare services.
The Korean Foundation for International Healthcare (KOFIH) has run this annual fellowship -- official development assistance (ODA) program named after the late Dr. Lee, who served as the sixth director-general of the World Health Organization -- for 1,147 healthcare workers from 30 countries since 2007.
Myongji Hospital hosted the seven-week program twice this year for 29 trainees from six countries.
The second session started on June 27 and ends Friday.
Two foreign trainees -- Dr. Geoffrey Oburu from Uganda and Thien Do, a research coordinator from Vietnam -- expressed their overall satisfaction on behalf of 18 colleagues who participated in the second session in an interview with Korea Biomedical Review at the hospital on Tuesday.
Dr. Oburu obtained a master's degree in Pediatrics at Makerere University in Uganda. He now serves as the head of the pediatric medicine and therapeutic unit at the China-Uganda Friendship Hospital.
According to Dr. Oburu, he was nominated for this program to streamline his institution's Covid-19 responses, as his work puts him at the center of infectious diseases, organizing consumables, planning for the facility, and reporting to the minister of health.
"This program has brought diverse healthcare workers together so that our countries can learn from Korea's automated systems where clinicians, labs, and machines work as a unit to minimize sample loss and optimize turnaround time between diagnosis and treatment," Oburu said.
He said this "training of trainers (TOT)" program consisted of a morning session from 9 to 11:45 a.m. and an afternoon session from 1-3 p.m., followed by interactive discussions.
"The quality of participants demonstrated that the fellowship was well-organized, and I enjoyed the multicultural environment as each fellow brought different knowledge and expertise in managing epidemics. Our class discussions also enlightened new perspectives due to this shared knowledge," the Ugandan doctor said.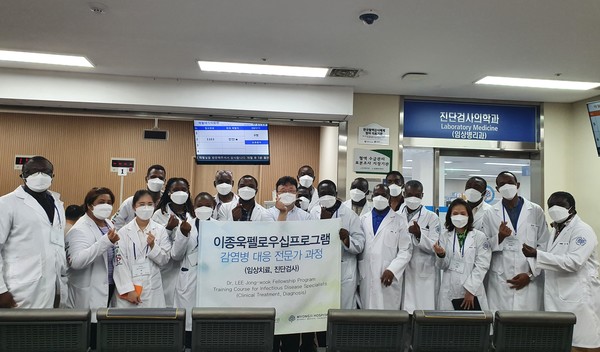 He said he appreciated the problem-based learning format in their classes as the theory could be directly applied to a practical situation, adding that it was a more meaningful way of learning.
Do, who earned a master's degree of science in biotechnology from Kyoto University in Japan, now works for the Pasteur Institute in Nha Trang as a research coordinator in the clinical trial unit of the Emergency Operation Center (EOC), creating epidemiology response guidelines, protocols and policies.
'I'm happy to be matched with a mentor with lots of experiences'
Do said she was encouraged to apply due to her research coordinator role with clinical trials for infectious diseases, as Korean hospitals are very well-developed in this aspect.
"I was happy to be matched with a mentor from Myongji Hospital who has a lot of experience working with clinical trials," she said.
Asked what she liked most about the program, Do said. "I was looking forward to the practical sessions as these were the skills I wanted to learn the most."
She also highlighted theoretical lessons like mathematical modeling and epidemiological predictions for disease outbreaks as valuable skills in her work. "This is the scientific evidence required to make proper policies to guide government decisions," she said.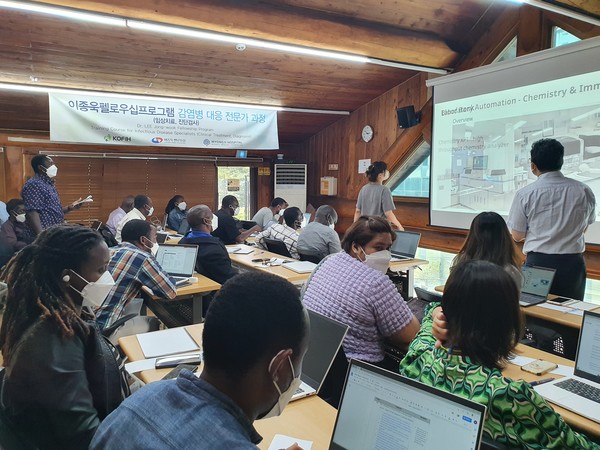 Acknowledging the need for these skills back home, Do mentioned that these lectures motivated her to consider pursuing a doctorate in disease modeling or propose this disease modeling training as a priority for her institute to enable better disaster response.
Dr. Oburu agreed, noting that the action plan classes came as a highlight of the program.
"Although Uganda experienced many epidemics, we lacked early crisis intervention, and so it was great to learn directly from Korea, which leads in this area," he said. "We were matched with mentors from Myongji Hospital based on our experience and subsequently challenged to make two action plans each during this program, ensuring its achievability within a specific time frame."
Both Oburu and Do agreed that the field trips to diagnostic kits makers, including SD Biosensor, Dx&Vx, and Noul, were valuable to establish future collaborative opportunities for themselves and other members of their organizations.
They also learned that basic life support activities, such as intubating and CPR, and proper donning and doffing of personal protective equipment (PPE), can save lives simply by creating these standard operating procedures (SOP) for their institutes.
"The best quality of care for my patients can only be provided if my life is first protected," Oburu said.
Identifying some other special moments during the program, Oburu noted that Korea's healthcare system is supported by scientific evidence, which encouraged him to think more about evidence-based practices in his workplace with a focus on innovation rather than sophistication.
Following this train of thought, Dr. Oburu shared one of his action plans explaining how he wants to transform the regional referral center back home into a national referral center to expand emergency infectious disease services.
Do also revealed her plan for around 40 healthcare workers in 11 central provinces of the Paster Institute, Vietnam, to educate more on disaster preparedness and biosafety training.
In addition, Do expressed her wish to experience more courses in clinical trials.
Dr. Oburu noted that most of the program was focused on adults but wished there was a bit more attention on pediatric patients.
Still, both agreed that the lecturers could always answer their specific questions and were looking forward to the program's final week.
Grateful for the opportunity at Myongji Hospital and eager to pay it forward, they recalled a story of an army doctor who volunteered to help other countries fight the Ebola crisis in Africa, noting that it inspired them to consider where else they could use their skills to serve outside of their own country.
"On behalf of our fellows, we are confident that everyone will recommend this program to their colleagues back home as we can train only a few in our countries," the two said in unison. "However, with the continued TOT fellowship, it will ensure a more skilled workforce in infectious disease response for future generations."
Related articles
Copyright © KBR Unauthorized reproduction, redistribution prohibited