Amgen's acute lymphoblastic leukemia (ALL) treatment Blincyto (ingredient: blinatumomab) passed the reimbursement review about two years after expanding indication to treat minimal residual disease (MRD) in patients with B-cell precursor ALL.
In contrast, Amgen's Xgeva (desonumab), which prevents skeletal-related events in cancer patients, failed to pass the reimbursement review by the Health Insurance Review and Assessment Service's (HIRA) cancer drugs benefit appraisal committee.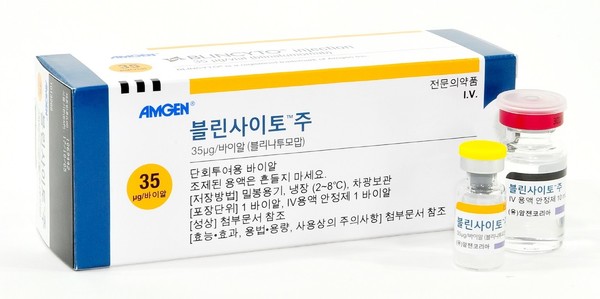 Novartis' targeted therapy for lung cancer, Tabrecta (capmatinib), also failed to qualify for health insurance benefits.
On Wednesday, HIRA released the results of the cancer drug reimbursement review.
Amgen's Blincyto was the only treatment that passed the review for cancer drug benefits.
In September 2020, the Ministry of Food and Drug Safety (MFDS) allowed Blincyto's expanded indication to treat minimal residual disease (MRD) in patients with B-cell precursor ALL.
In October 2021, Amgen tried winning reimbursement for the additional indication to no avail.
By challenging the insurance benefits again after 10 months, Amgen finally made Blincyto one step closer to obtaining reimbursement.
The recognition of the cancer drugs benefit review panel for Blincyto reimbursement is meaningful in that MRD has been recognized as a meaningful indicator to predict prognosis and determine a treatment strategy.
MRD refers to a disease where malignant cells are still detected by detailed tests such as flow cytometry and polymerase chain reaction (PCR), despite the patient's complete remission (CR) where less than 5 percent of malignant cells in the bone marrow are observed through conventional tests.
MRD-positive patients have a high risk of recurrence, and removing MRD through additional therapy could help the patient maintain CR for a long time.
Blincyto is the first authorized treatment to treat MRD in patients with a high chance of recurrence in MRD-positive patients.
The treatment demonstrated efficacy and safety in a single group of 116 patients in a phase 2 BLAST trial. The outcome showed that 77 percent of the patients had complete MRD response within the first cycle of Blincyto, meeting the primary endpoint.
In a subgroup analysis on 110 Philadelphia chromosome-negative patients, 54 percent of Blincyto-treated patients reported recurrence-free survival (RFS) at 18 months. In all 116 patients, the overall survival (OS) was 36.5 months.
Amgen's Xgeva, which failed to get broadened reimbursement, is covered by health insurance when used to prevent skeletal complications in patients with bone metastases during breast and prostate cancer treatment.
Amgen tried to expand reimbursement for Xgeva's reimbursement based on the treatment's effect on reducing the risk of skeletal symptoms in patients with bone metastasis from multiple myeloma and solid cancer.
Novartis' Tabrecta did not become eligible for reimbursement, either.
In November, the MFDS authorized using Tabrecta to treat locally advanced or metastatic non-small cell lung cancer (NSCLC) with confirmed MET exon 14 skipping.
Copyright © KBR Unauthorized reproduction, redistribution prohibited