Biogen dropped its plan to roll out Alzheimer's disease treatment Aduhelm (ingredient: aducanumab) in Korea, sources said.
The company reportedly told the Ministry of Food and Drug Safety that it would withdraw its application for Aduhelm approval.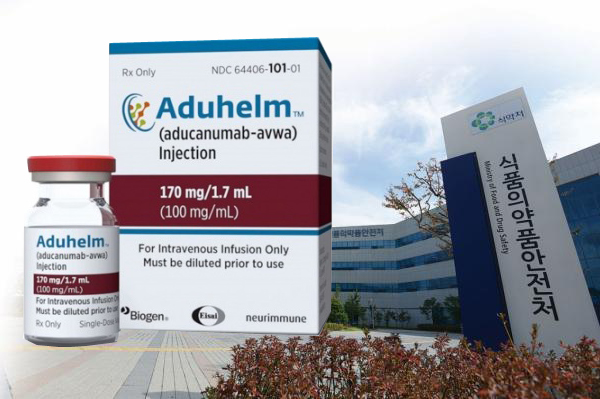 Earlier, the Central Pharmaceutical Affairs Council meeting minutes showed that Biogen's phase 3 Study 302 results were "insufficient to be recognized as a confirmatory clinical trial."
As the company had a fat chance of winning the permit for Aduhelm, it voluntarily canceled the request for marketing approval.
Biogen told Korea Biomedical Review that it had no plan to re-apply for Aduhelm approval, indicating that it gave up the market release of the Alzheimer's drug in Korea.
Unlike in the U.S., Biogen did not apply for conditional approval for Aduhelm based on data of a biomarker (amyloid beta reduction effect) in Korea.
However, the drug review panel concluded that it could not recognize Study 302 as a confirmatory trial because the trial did not meet the primary and secondary endpoints.
The panel also refused to recognize post hoc analysis because the study was interrupted due to the predefined declaration of futility.
For Biogen to obtain the nod for Aduhelm, it had to apply for conditional approval, just like in the U.S., based on the biomarker data.
Biogen did not make any decisions just a few days before the disclosure of the minutes of the review panel but later decided to drop the plan for the local release of Aduhelm.
A neurology professor at a university hospital said he felt sorry that he could not use the newest treatment for Korean Alzheimer's patients who do not have any fundamental treatment options.
"Although the number of patients is small, I had high expectations because aducanumab's clinical results were not bad in Korean patients," he said. "It is frustrating that we must wait until a follow-up drug with the same mechanism wins approval in Korea."
The drug review panel's refusal to approve Aduhelm is likely to weigh on latecomers developing anti-amyloid agents.
Biogen canceled its approval application even before the regulator could discuss whether to recognize a biomarker's effectiveness, just as the U.S. FDA did. So now, latecomer developers have to deal with the entire approval process without precedent.
Next anti-amyloid treatment candidates include Lilly's donanemab, Eisai/Biogen's lecanemab, and Roche's gantenerumab.
Lilly's donanemab was closest to marketing approval next to Aduhelm in the U.S. after being designated as a Breakthrough Therapy by the FDA to treat Alzheimer's disease.
However, Lilly recently said it planned to submit phase 3 clinical trial results by the end of this year. Unfortunately, this means that approval for donanemab was behind schedule.
In July, the FDA granted priority review of conditional approval for Eisai/Biogen's lecanemab based on phase 2 trial data. The FDA is to announce the review decision in January next year.
Results of trials of donanemab, lecanemab, and gantenerumab are expected to be disclosed in the second half of this year. Attention is on which drug will win the title of "the first Alzheimer's drug in Korea."
Copyright © KBR Unauthorized reproduction, redistribution prohibited