Deep Bio, an artificial intelligence-based digital pathology company, said on Wednesday that it agreed on partnerships with foreign companies to enter the overseas market with its prostate cancer diagnosis software, DeepDx Prostate.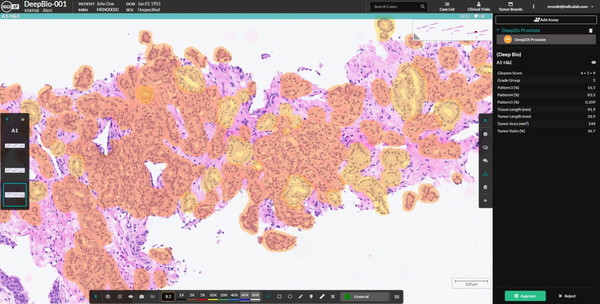 For starters, the company plans to expand its U.S. market share through a partnership with Indica Labs, a local company specializing in digital pathology software and image analysis.
Indica Labs' web-based pathology platform, HALO AP, together with its organizational analysis tools HALO AI and HALO Link, is an integrated platform that provides functions such as digital pathology image management and quantitative analysis, and tumor board reviews. These tools are used for primary and secondary cancer diagnosis and clinical research and support state-of-the-art pathology workflows.
The successful link of DeepDx Prostate to HALO AP is expected to help pathologists in labs and hospitals worldwide use the platform to diagnose prostate cancer more accurately and quickly while spurring digital pathology adoption.
Deep Bio has also signed a distribution contract with Augmentiqs, an Israeli digital pathology microscope company, to supply real-time pathology microscopes in the domestic market. Augmentiqs is a small box with dimensions of 25 cm, 13.5 cm, and 5.5 cm, which can digitally image tissue slides that pathologists examine in real-time.
Moreover, users can attach it to all existing pathological microscopes without additional devices, such as C mounts, beam splitters, and ternary lenses, so they can easily observe digital pathological images at a lower cost. Researchers can also use digitized tissue images for analysis through remote pathology and AI cancer diagnosis algorithms.
"With the rapid digitalization of the medical community due to the Covid-19 pandemic, we are also pushing to introduce our digital pathology solutions," Deep Bio CEO Kim Sun-woo said. "We will continue seeking global collaborations so that more domestic and foreign pathologists can experience improved workflows."
Besides, Deep Bio is conducting joint research with leading domestic and foreign universities and medical institutions, including Stanford Medical School and Dana-Farber Cancer Center. According to the company, it is also working with pathological medical image management platform companies to provide services to more pathology specialists.
Related articles
Copyright © KBR Unauthorized reproduction, redistribution prohibited