Novo Nordisk is facing difficulties to replace the existing drug Saxenda (liraglutide) with a new drug Wegovy (semaglutide) in the obesity treatment market due to manufacturing issues.
On Thursday, the Danish multinational drugmaker said in an IR meeting for second-quarter earnings that it would be difficult to supply Wegovy sufficiently until the end of this year.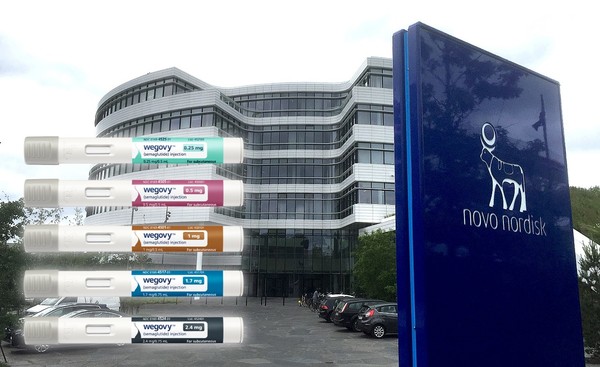 Earlier, the company had announced that Wegovy would reach the market in the second half of 2022.
After the IR session, Novo Nordisk's shares fell as much as 13 percent.
Wegovy obtained FDA approval to treat adult patients with obesity in June 2021 but supply shortage issues have delayed a full market release so far.
With Novo Nordisk's Ozempic, the existing antidiabetic drug with the same ingredient semaglutide, becoming one of the bestselling drugs in the world, the company has had supply shortage problems for GLP-1 agonists, it said.
However, the company is making efforts to expand production facilities, it added.
As Lilly's tirzepatide emerged as a strong rival against semaglutide, the delay of Wegovy release is expected to affect Novo Nordisk negatively, observers said.
In May, Lilly obtained FDA's nod for tirzepatide (brand name: Mounjaro), a dual GIP and GLP-1 receptor agonist, to treat diabetes.
Tirzepatide proved superior to Ozempic, insulin glargine, and insulin degludec in reducing blood sugar and weight in type-2 diabetes in phase 3 SURPASS trial.
Based on tirzepatide's excellent weight-reducing effect, Lilly said it would enter the obesity treatment market.
In a conference with investors, Lilly said it would begin a Surmount-5 trial to compare tirzepatide with Wegovy head to head.
When Novo Nordisk was not able to promise a full launch of Wegovy, Lilly announced it would directly compete against Novo Nordisk in the obesity treatment market.
Novo Nordisk is already dominating the obesity treatment market thanks to the blockbuster drug Saxenda.
However, it remains to be seen how well the company will replace the old treatment Saxenda with the new treatment Wegovy.
Copyright © KBR Unauthorized reproduction, redistribution prohibited