The Lithuanian Biotechnology Association (LBTA) said on Friday that they signed a memorandum of understanding (MOU) with Korea Biotechnology Industry (Korea BIO) to establish stronger cooperation with Korean bio-companies in the field of high value-added technologies.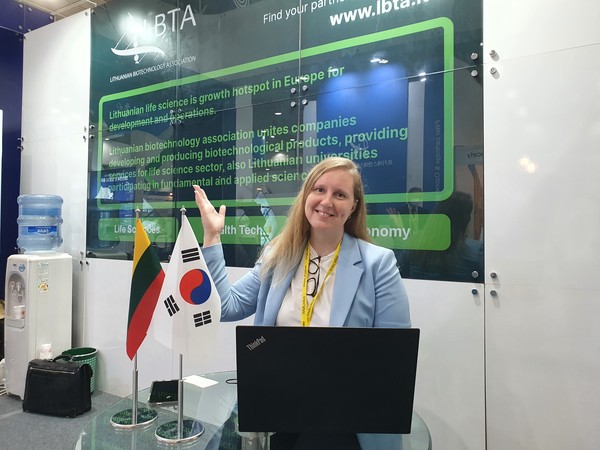 In an interview with Korea Biomedical Review (KBR) at Bioplus-Interphex (BIX) Korea 2022, Agnė Vaitkevičienė, Vice-President of the LBTA, further explained how this MOU was first initiated with the support of organisations like the Lithuanian embassy in Korea and the Innovation agency of Lithuania.
"We have officially been in contact with Korea BIO for more than half a year towards the end of 2021," Vaitkevičienė said. However, before this, Lithuanian companies and academic researchers had already engaged in projects with Korea and South-East Asian countries on an individual basis."
Recognizing Korea as one of the leading biotech sectors in Asia, she said, "It was important for us to make the partnership official through this MOU to connect with a highly developed biotechnology-oriented country like Korea and help Lithuanian bio-companies find their niche in South Korea."
She revealed that this was one of the driving forces for the Lithuanian embassy which recently opened in Korea at the end of last year.
Referencing her Deputy Minister of Economy and Innovation's opening ceremony speech, Vaitkevičienė said, "Although a small country, we ranked as one of the top biotechnology production sectors, which experienced a growth surge due to our bio-companies' quick response to the global Covid-19 pandemic, much like Korea."
Furthermore, she identified another similarity between the two countries. "Just like Korea, the Lithuanian government has prioritised the life sciences and biotechnology sector with a current GDP contribution of 2.5 percent which we hope to expand to 5 percent in 2030."
For the BIX 2022 event, LBTA focused primarily on promoting their clinical trial experience and CRISPR Cas research with a morning and luncheon session, Vaitkevičienė said.
"LBTA would also like to collaborate in other areas in which Korea excels like medical devices and artificial intelligence (AI)," she said, citing future plans of these Lithuanian companies to visit next year for BIX Korea 2023.
Vaitkevičienė added, "All industries in the medical field are integrated so it is not possible to work in silo. Every country including Korea has specific technologies in which they excel so we are excited to see where future collaborations take our biotechnology sectors in the near future."
Regarding the origins of Lithuania's biotechnology sector, she shared about the recent 50-year anniversary of its first bio-manufacturing facility in Lithuania, the Institute of Applied Enzymology, which served as a science hub for the entire Soviet Union. "This helped to develop our biotechnology sector specifically in the fields of biochemistry, enzymes and metabolic engineering."
After gaining independence, spin-off companies were established. One of these companies, Fermentas, accounted for 95 percent of the global enzyme market at the time and was subsequently acquired by Thermo Fisher Scientific which is now one of the strongest R&D biotechnology centres in Europe, she said.
Vaitkevičienė presented an opportunity for Korean startups to enter the European market through Lithuania, highlighting its high "ease of doing business index." Currently, there are two opportunities -- the European Forum for Industrial Biotechnology & the Bioeconomy (EFIB) conference in October and the Life Science Baltics in September 2023, she said.
Among the Lithuanian delegate that attended BIX 2022 were Biomapas, Caszyme, Cureline Baltic, Innovative Diagnostics Center and Placenta, companies specialising in clinical and preclinical research, diagnostics, genetic testing and CRISPR Cas molecular tools.
Copyright © KBR Unauthorized reproduction, redistribution prohibited