KT, the second-largest telco in Korea, has been accelerating its entry into the digital healthcare sector recently. Now, the company is seeking to expand its influence to lead the local healthcare ecosystem.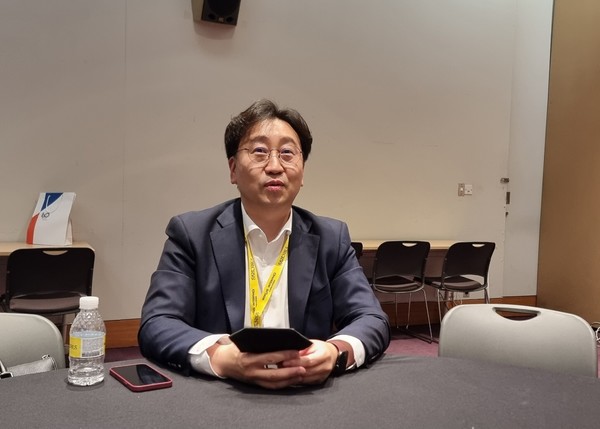 "The healthcare industry is expanding from diagnosis and treatment to prevention and management," said Lee Hai-sung, vice president of KT's digital and biohealth division, during an interview with Korea Biomedical Review on Friday. "The digital healthcare market has a lot to do with such an expansion through the convergence of information technology (IT) and biotechnology (BT)."
Lee is known as an expert in the biotechnology industry.
After graduating from Kyung Hee University, Lee received his master's degree in physical chemistry from Pohang University of Science and Technology, and a doctorate in biomedical engineering from Sungkyunkwan University.
Since then, he has served as the associate director of Johnson & Johnson Korea's Innovation Center and managing director in charge of digital health-related investments at QUAD Investment Management.
Lee stressed that in this changing era, KT wants to play a major role in digital healthcare.
"The company plans to keep working on its strong business areas such as combining various data, including medical, financial, and wearable data, to diagnose, treat, and manage diseases more efficiently," Lee said. "Also, the company plans to work with the government to establish a regulation for digital therapeutics and spur active investment."
Lee predicted that KT would face hurdles in the heavily regulated healthcare field.
However, Lee stressed that it would not be an issue because KT performed well in the strictly regulated telecommunication industry.
Lee said many digital healthcare startups hoped that conglomerates such as KT would tear down regulatory barriers and establish a well-shaped ecosystem.
Aware of their demand, the company was in constant communication with the government -- Ministry of Economy and Finance, Ministry of Trade, Industry and Energy, Ministry of Science and ICT, and Ministry of Food and Drug Safety –- to talk about what kind of support the digital healthcare industry required.
KT is also playing a vital role in policy shaping in the digital therapeutic field as a member of the Korea Digital Health Industry Association, Lee added.
In terms of investment, Lee noted that it is important to discover and nurture promising venture companies for KT to secure competitiveness in the digital bio healthcare field.
We will increase investment in the digital healthcare ecosystem through specialized accelerator funds such as 'Smart Korea KT Next Investment Association,' KT Investment, and the company's internal strategic fund," Lee said. "Notably, KT is also considering acquiring shares of promising companies if necessary."
Lee stressed that most recently, the company jointly invested in digital therapeutics developer Digital Pharm, a subsidiary of the Catholic University of Korea's holdings company, with Hanmi Pharmaceutical.
However, Lee stressed that the company is not yet considering any M&A deals.
"The company also plans to enhance competitiveness by forming alliances with domestic and foreign companies with differentiated technology and conducting business cooperation."
KT to focus on voice-based digital therapeutics
When asked what digital therapeutics the company is currently focusing on, Lee stressed that the company is developing digital therapeutics that utlize a user's voice.
"KT is fundamentally a telecommunications company," Lee said. "Therefore, voice recognition is our area of expertise, and digital diagnostic devices that diagnose diseases with sound big data are of great value."
Lee stressed that the company is taking a two-track development approach -- diagnosis and treatment.
"Voice-based digital therapeutics can help diagnose certain illnesses such as stroke or speech-related illnesses when a user stutter or makes incorrect pronunciation, and can also determine if a person has a respiratory disease by analyzing the user's breathing sound," Lee said. "For treatment, the therapeutic can help people with pronunciation and even teach people with swallowing disabilities on how to swallow better."
Besides voice therapeutics, Lee added that the company is developing a service to prevent heart failure patients from revisiting the hospital due to recurring symptoms, working with Novartis Korea and the Korea Society of Heart Failure.
Copyright © KBR Unauthorized reproduction, redistribution prohibited