Professor Virginijus Siksnys of the Institute of Biotechnology at Vilinus University opened the third and final day of Bio-Interplex (BIX) Korea 2022 with the keynote speech on the past, present and future of CRISPR-Cas technology on Friday at COEX, southern Seoul.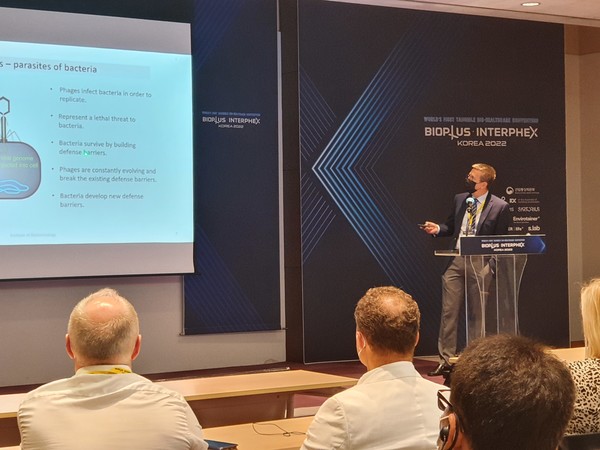 CRISPR technology gained widespread fame after scientists Jennifer Doudna and Emmanuelle Charpentier received the Nobel Prize in 2020 for their research.
Professor Siksnys began with a brief introduction of the CRISPR-Cas system, explaining its origins as an adaptive immune system that provides resistance against invading viruses.
Now, Cas9 and Cas12 are already widely used genome editing tools with several ongoing clinical trials in the medical industry.
Yet, there are still limitations in the targeting space and the delivery using adeno-associated virus (AAV) vectors in vivo, noted Professor Siksnys.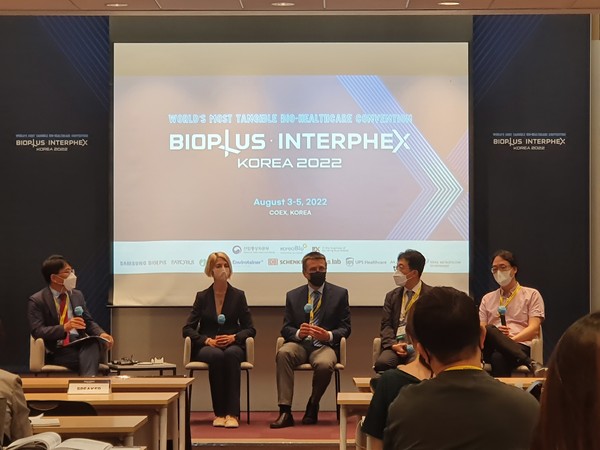 For example, protospacer adjacent motifs (PAM) limits the target site selection in genes, making about 75 percent of mutations in human diseases inaccessible for gene modification.
So, his lab investigated novel Cas9 orthologues and found that they were able to recognise different PAM sequences to expand the targeting space for gene editing.
Subsequently, they discovered that these Cas9 orthologues were a rich resource for new potential genome editing tools.
He also presented on a catalogue of Cas12f miniature nucleases which can cleave double strand DNA in a PAM dependent manner.
They discovered that Cas12f have half the size of Cas9 or Cas12 which is better for delivery into human cells. This led to the discovery of the new "TnpB" protein as a new gene editing tool adding to the existing Cas9 and Cas12 tools, overcoming the previously mentioned limitations.
When questioned about the specific application of this new gene editing tool, Professor Siksnys replied that it has mainly been applied in the agricultural industry so far to discover new plant varieties for better nutritional values.
However, he welcomed collaborations in the medical field with Korea.
"We are still at the early stages of using this gene editing tool for medical therapeutics. Thus, being here at BIX Korea is a good opportunity for us to discover how we can collaborate with Korean companies and researchers like those on the panel to expand the use of TnpB protein in CRISPR-Cas gene editing," he said.
Copyright © KBR Unauthorized reproduction, redistribution prohibited