On the opening day of Bioplus-Interphex (BIX) Korea 2022 on Wednesday, Korea Biomedical Review (KBR) spoke to a variety of foreign companies to discover their intentions for attending the event this year.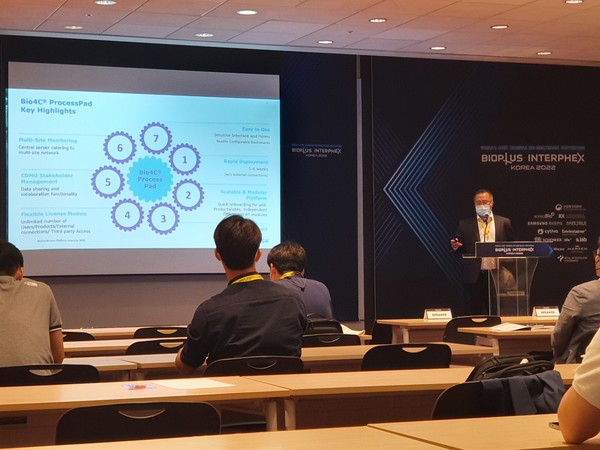 At the forefront of discussions was healthcare digitalization.
Merck gave an engaging presentation about the automation of the drug production process, encouraging other pharmaceutical companies to integrate its process analytical technology (PAT) solution , Bio4C Process Pad, towards continuous bioprocessing.
Accordingly, Minh Tran, head of Process and Automation for the APAC region noted, "Merck Korea has already established a plant in Incheon and the FDA has also established some guidelines recognizing the need for automated drug production."
However, the Korean biopharmaceutical industry is still lagging in adopting these practices, Tran said.
Douglas Lugo and Keith Davis, two organizers of Interphex America, shared their thoughts, too.
When asked to compare Interphex Korea with the American version, they first noted the difference in mask culture in Korea.
They further remarked that the conference started with an impressive line-up of speakers capturing a good combination of key biotech officials from the government to the private sector and innovators this year.
As trade show organizers, they were looking to make connections with Korean biotech companies that want to establish a presence in the U.S., they said.
Meanwhile, an official from a Switzerland-based vaccine maker said he participated in the event to establish ties with Korean firms because Korea recently launched the first homegrown Covid-19 vaccine.
Biomapas, a Lithuanian-based company specializing in clinical research, which attended the show for the first time, said it intended to explore the possibility of doing more clinical trials in Asia including Korea.
Vetter, a Germany-based CDMO company, noted the stiff competition in CMO production with Samsung Biologics, citing the latter's new plant.
"Although there is already a lot of competition, we are focused on drug production (DP) which allows us to customize our solutions specifically to clients' needs," an official at Vetter said.
Gene Online, a Taiwan-based biopharmaceutical media company said this was not their first time attending BIX Korea, but was happy for the offline return of the conference to meet new clients in person.
BIX Korea 2022 continues until Friday with more exhibitions, seminars, and opportunities for partnerships.
Copyright © KBR Unauthorized reproduction, redistribution prohibited