Biogen's Alzheimer's disease treatment Aduhelm (ingredient: aducanumab) may not be able to obtain marketing approval in Korea due to "insufficient data."
According to the minutes of the Central Pharmaceutical Advisory Committee's meeting disclosed by the Ministry of Food and Drug Safety, the committee members said Biogen's phase 3 Study 302 results were "insufficient to be recognized as a confirmatory clinical trial."
The Study 302 trial did not meet the primary and secondary endpoints, meaning that the trial failed statistically. Thus, the trial results were not enough to grant the permit, the review panel said.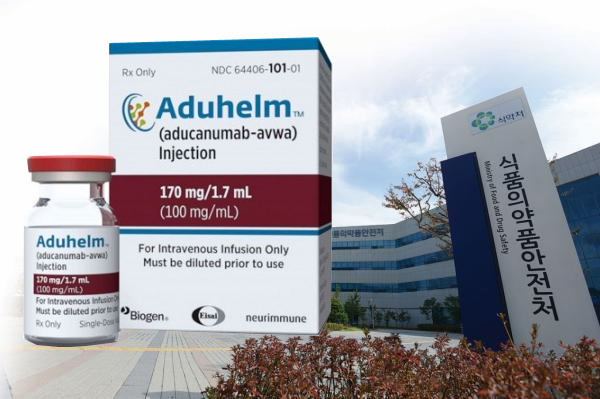 Unlike in the U.S., Biogen did not apply for conditional approval for Aduhelm based on data of a biomarker (amyloid beta reduction effect) in Korea.
The review panel's latest opinion raises the possibility that the drug regulator could refuse to grant the permit for Aduhelm.
Although the committee members noted that they could re-discuss the issue if necessary, Biogen said it has yet to decide on whether to revise the approval application or to submit a new application.
In other words, the company has not decided on whether to seek new approval based on biomarker data, just like it did in the U.S., or give up on the market release in Korea.
The minutes showed that the review committee members gave a hardheaded assessment of Aduhelm.
One member, who evaluated the Study 302 outcome from a clinical statistical point of view, said the study was interrupted "due to the predefined declaration of futility."
"We can't recognize post hoc analysis after the declaration of futility," the panelist said.
Another member said drug-related endpoints used in brain disorders are so volatile that even a small correction of data can change the overall outcome.
"Changing the dosage protocol in the middle of a study of such a sensitive drug could affect the overall result. So, we cannot accept this analysis from a statistical point of view," the member said.
In contrast, neurology clinicians who participated in the meeting expressed regret that the clinical value of Aduhelm and the biomarker were not discussed.
One clinician said Alzheimer's and cancer are similar in that there is no cure.
"When Alzheimer's trials are failing, it is meaningful to use the improvement of the biomarker in the drug assessment," the clinician said.
When seeking marketing approval for Aduhelm in Korea, Biogen reportedly submitted a plan to manage amyloid-related imaging abnormalities (ARIA), a common problem in anti-amyloid antibodies.
ARIA was reported in 41 percent of Aduhelm-treated patients, drawing keen attention. However, researchers found that it was not a problem in a particular drug but a side effect in all anti-amyloid agents.
The review committee also discussed Aduhelm's ARIA risk. An ARIA event in a clinical trial under the strict control of the environment could be managed immediately. However, it could be a serious issue in real clinical settings and Aduhelm needs a strict ARIA risk management strategy, the review panel said.
Still, one member said, "As less than 10 percent of the participants discontinued the treatment, ARIA risk will not be a big problem as long as it is managed well."
Copyright © KBR Unauthorized reproduction, redistribution prohibited