Vuno said it has obtained the Ministry of Food and Drug Safety (MFDS) certification for Hativ Pro, a personal electrocardiogram (ECG) device.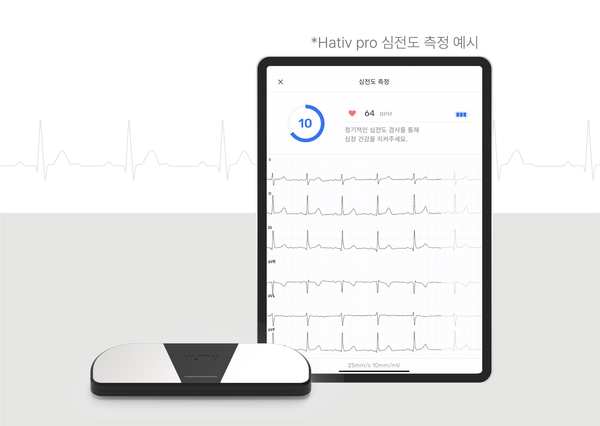 The device is the first hardware medical device rolled out by VUNO that measures the ECG and records, stores, and transmits data.
The company said the small and portable device allows users to easily measure the heart signal anytime, anywhere after connecting the device to a mobile app.
Starting with the certification, VUNO will expand its business area to business-to-consumer (B2C) and start the bio-signal business based on ECG data, it said.
VUNO plans to launch home AI medical devices that can detect major heart diseases such as arrhythmias and mount the VUNO Med-DeepECG, an AI-based ECG analysis software designated as an innovative medical device by the MFDS, on to the home AI medical devices.
The company said it would continue to strengthen its medical AI business using ECG data, which could help fight various cardiovascular diseases.
The company also plans on launching an integrated health management brand, including home AI medical devices, called Hativ, to support consumers' daily healthcare and early diagnosis of chronic diseases.
"The MFDS certification for Hativ Pro will serve as a cornerstone for our entry into the B2C business," VUNO CEO Lee Ye-ha said. "The company will do its best to reduce the death rate of cardiovascular disease and contribute to preventive treatment, which is the future direction of healthcare, through its ECG data-based medical AI business."
Copyright © KBR Unauthorized reproduction, redistribution prohibited