Philips Korea expressed its will to focus on providing personalized healthcare solutions by actively using digital technology and data to prevent diseases in daily life on Tuesday.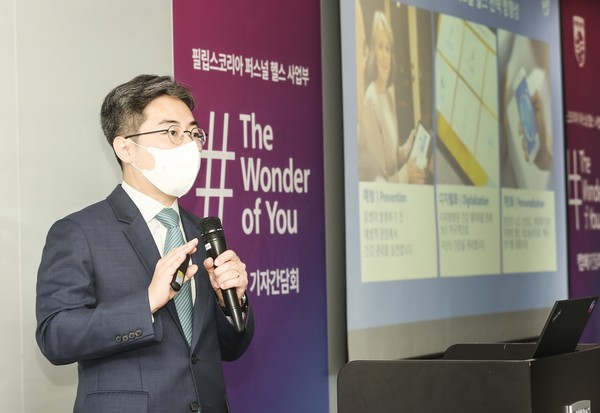 "With PDP (Prevention, Digitalization, and Personalization) as keywords for future business strategy, we plan to help preventive-centered health management in daily life through a digital-based personalized healthcare solution," said Park Hee-je, general manager of Philips Korea's personal health division, during a news conference Tuesday.
Through this, he added that the division will help achieve Philips's vision of improving the quality of life of 2.5 billion people annually by 2030.
Park said the company plans to focus on practicing health management from a preventive point of view before a disease occurs, more active personal health management through digitalized health data, and customized health technology care needs tailoring to one's needs, preferences, and routines.
"We plan to strengthen the company's role in leading a healthy life and preventing diseases in advance," Park said. "To this end, we will strive to reduce the time and cost of personal healthcare by actively utilizing digital technology and providing personalized services."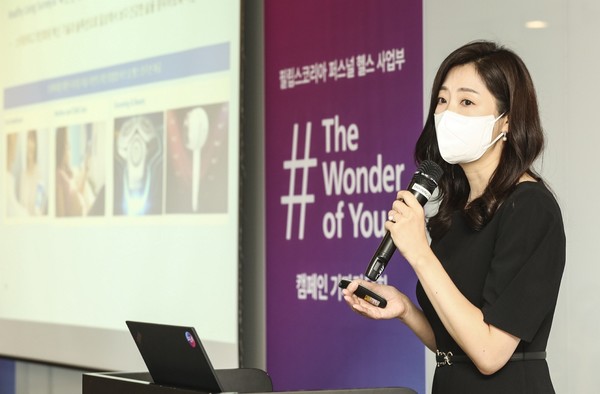 Lee So-yeon, head of marketing at Philips Korea's personal health division, introduced the "Wonder of You" campaign the company is conducting and major personal health products and solutions.
Lee noted that the campaign is a program that allows consumers to experience the wonderful functions and interactions of their body and mind and introduces innovative solutions to Philips's personal health division.
Lee also explained how the company's innovative solutions, such as electric sonic toothbrushes, electric shavers, and hair dryers, help form healthy habits and contribute to the daily physical, mental, and social health management in connection with the campaign purpose.
"The personal health division is paying attention to the lack of information which has emerged as an obstacle to personal healthcare in Korea after the Covid-19 pandemic," Lee said. "The Wonder of You is a campaign to induce correct awareness of our body and mind and to provide effective information on appropriate personal health solutions."
She added that if health technologies such as health-related applications and devices are properly used, more satisfactory personal health management will be possible.
Copyright © KBR Unauthorized reproduction, redistribution prohibited