Kyung Hee University Dental Hospital signed a business agreement with Osteoid USA, a 3D rendering software developer, to develop TWEeMAC, Korea's first AI 3D integrated dental analysis platform.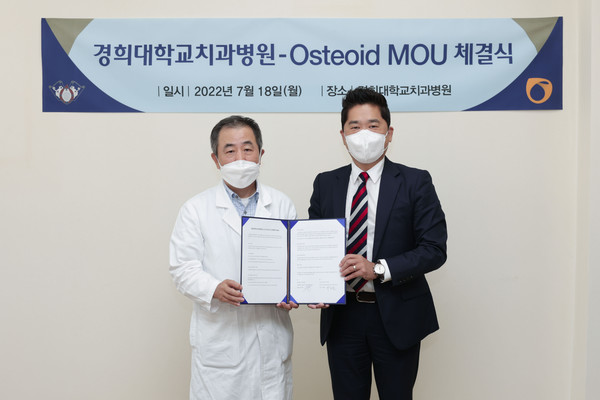 Kyung Hee Dental Hospital Director Hwang Eui-hwan and Osteoid CEO Calvin Hur signed the accord in a ceremony attended by more than officials from the two sides, reaffirming their determination to develop a next-generation dental platform that digitizes patient oral information and actively use it for patient diagnosis.
Through this collaborative development platform, it will become possible to diagnose snoring, sleep apnea, asymmetry, maxillofacial facial deformities, aesthetic diagnosis of bones and soft tissues, in-depth diagnosis of maxillary bone stenosis, and comprehensive diagnosis of teeth, bones, and soft tissues.
"Based on the big data accumulated for more than 50 years, we started with the intention of helping other hospitals establish accurate oral conditions and treatment plans for patients," Director Hwang said. "We will strive to become a dental hospital that leads dentistry's research and treatment field through preemptive responses in a rapidly changing environment."
Professor Kim Seong-hun of Biorapid Correction Center said, "We can digitize the conditions of previous patients to derive comprehensive analysis results quickly based on AI. For example, with the TWEeMAC platform, it is possible to comprehensively analyze the patient's oral condition so it can help establish an optimized treatment plan."
Osteoid CEO Calvin Hur said, "It is an honor to establish a strategic partnership with Kyung Hee University Dental Hospital,"
Hurr added that his company would strive to secure and apply the necessary clinical data for the development of AI and cloud computing technology to improve the digital dental diagnostic and therapeutic market.
Copyright © KBR Unauthorized reproduction, redistribution prohibited