The share price of Lunit, an artificial intelligence-based medical equipment manufacturer, rose to its upper limit on Thursday, the first day of its initial public offering on the tech-heavy Kosdaq market.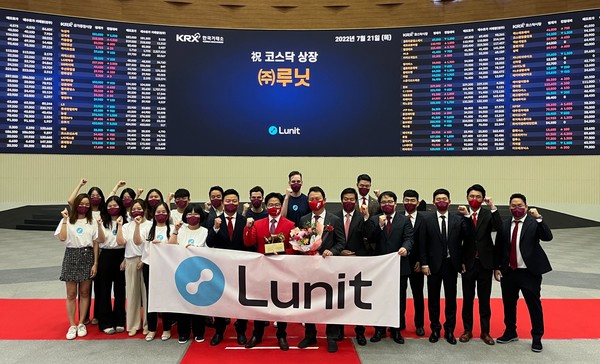 Lunit's share price surged 29.87 percent to close at 40,000 ($30.56) won per share.
The surge in stock price followed Lunit's disappointing book-building session from July 7-8, which checked investor demand for new shares. Nevertheless, some 162 institutional investors participated in the process, recording a subscription rate of 7.1 to 1.
The offering price was set at 30,000 won, 32 percent lower than a price band of between 40,000 to 49,000 won. The general subscription situation was also similar to institutional investors' demand forecasts. Lunit's general subscription competition ratio was about 9 to 1, and the subscription margin stood at a mere 41 billion won.
Lunit was established in 2013, featuring products, such as Lunit Insight, an image analysis solution for cancer diagnosis, and Lunit Scope, a biomarker platform for cancer treatment.
It has since partnered with major global medical device companies, including GE Healthcare, Philips, and Fujifilm, to supply image analysis solutions to more than 600 medical institutions worldwide.
The company has also signed a joint research agreement with global biotechnology companies, including Guardant Health, to develop AI biomarkers. It is also diversifying into cancer treatment areas to increase the therapeutic effect of immunotherapies.
With the funds acquired through the IPO, the company said it would invest in R&D to develop various AI products with the highest performance and invest in expanding overseas markets to solidify its position in the global market.
"We thank everyone who helped us successfully enter the Kosdaq market," Lunit CEO Suh Beom-seok said. "We will do our best to improve external growth and internal value to satisfy all who have invested in Lunit's growth potential."
Related articles
Copyright © KBR Unauthorized reproduction, redistribution prohibited