Korean scientists have developed a multiple genetic detection platform that can precisely diagnose gastric cancer.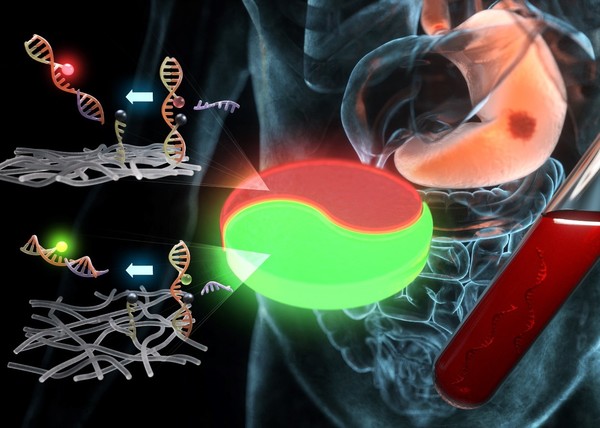 The Korea Research Institute of Bioscience and Biotechnology (KRIBB) said Monday that its researchers developed a diagnostic platform that detects genetic markers within the blood with high sensitivity.
While Korea has one of the highest gastric cancer rates globally, it also has the lowest mortality rate compared to its incidence rate due to early diagnosis from regular health checkups. In addition, invasive biopsy accounts for most gastric cancer diagnoses. Still, the institute noted that it poses a risk to patients and doctors and can only be conducted depending on the location, size, and patient condition.
On the other hand, liquid biopsies analyze and diagnose tumor cells based on substances secreted from tumor cells in the blood. It is fast and simple, and the possibility of false positives is low. Liquid biopsy uses a tumor marker test method that identifies a specific labeling protein that abnormally increases in the blood when cancer occurs but is not always accurate, it added.
Accordingly, research on finding genetic biomarkers emitted from tumor cells has drawn attention. The diagnostic platform can detect the high sensitivity of gastric cancer gene markers in the blood using self-signal amplification probes.
Furthermore, the team improved its accuracy by establishing a system to simultaneously diagnose genes (miR-135b) known to be involved in gastric cancer formation and representative tumor genes (miR-21) of solid cancer.
It is also possible to detect microRNAs (miRNAs) in the blood with high sensitivity without additional chemicals by fitting a fluorescent signal amplification probe based on the fuel stimulant powered (FSP) amplification theory, demonstrating a high level of reliability in preclinical and clinical trials.
"Our platform can detect two types of gastric cancer marker genes simultaneously with high sensitivity only by using blood tests." Dr. Lim Eun-kyung, director of the research, said, "We expect to use it for precise diagnosis and prognosis monitoring of gastric cancer to improve national health."
Dr. Han Tae-su, co-director of the research, added, "We will continue to conduct joint research to develop a high-efficiency, multi-diagnostic marker discovery and diagnostic platform."
Chemical Engineering Journal published the study in its June 18 issue.
Copyright © KBR Unauthorized reproduction, redistribution prohibited